The Urban Elite Global Cities Index (2010) is a ranking of the most global cities based on five aspects of globalization: business activity, human capital, information exchange, cultural experience, and political engagement.  The index is a collaboration of A.T. Kearney, Foreign Policy and the Chicago Council on Global Affairs.
The chart below presents the rankings for the top 20 most global cities for 2010 and 2008.  The multi-colored bars show each global city's performance on the five dimensions of globalization and convey each dimension's contribution to the city's overall globalization score.  (Click on the image below to view the full-size chart in a separate browser tab or window.)


Globalization Indicators
Business Activity (30%)
Business activity is scored and ranked on the basis of five factors: number of international conferences, flow of goods (air and port), capital markets, number of companies among the top 40 global service firms, and number of Fortune Global 500 companies with headquarters in the city.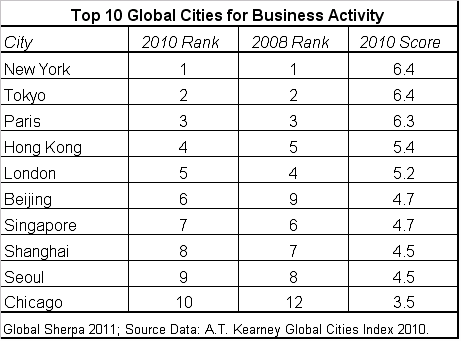 Human Capital (30%)
Human capital is scored and ranked on the basis of five factors: size of a city's foreign-born population, quality of its universities, number of international schools, international student population, and percentage of residents with university degrees.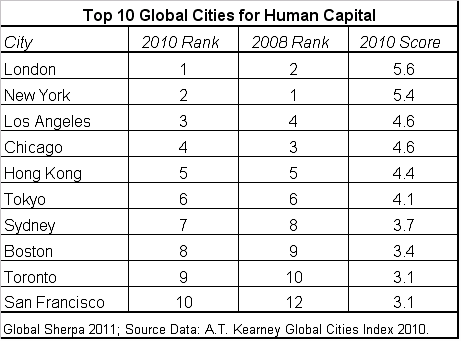 Information Exchange (15%)
Information exchange is scored and ranked on the basis of four factors: number of international news bureaus, level of censorship, amount of international news in the leading local papers, and broadband subscriber rate.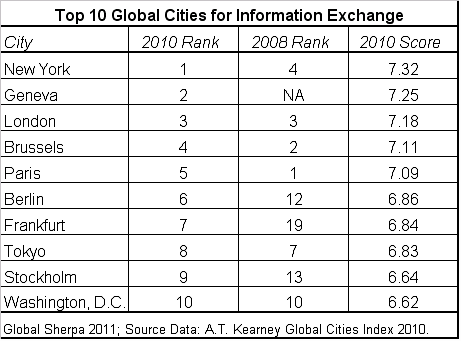 Cultural Experience (15%)
Cultural experience is scored and ranked on the basis of six factors: museums, visual and performing arts, major sporting events a city hosts, international travelers, diverse culinary establishments, and sister city relationships.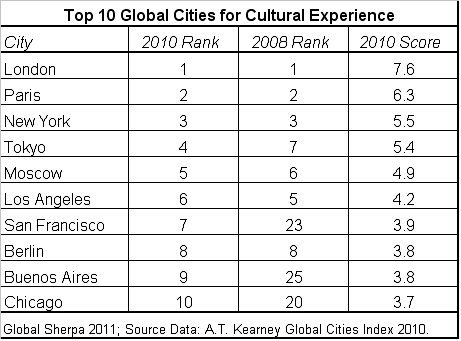 Political Engagement (10%)
Political engagement is scored and ranked on the basis of five factors: international organizations, embassies and consulates, think tanks, political conferences, and local institutions with international reach.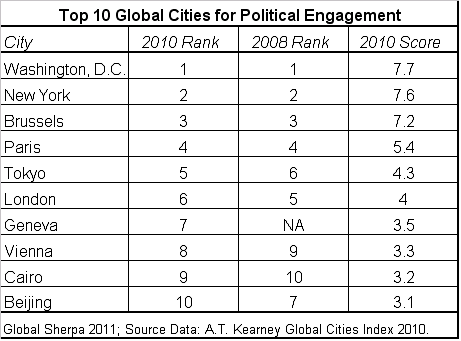 Related articles and content:
Top Global Cities Rankings (Analysis of the 2010 Global Cities Index)
World Cities Page – Rankings, Development Facts and Article Links
World Cities: Best Quality of Living and Liveability
Return to the World Rankings page.