Indonesia is the world's fourth largest country by population, third biggest democracy and largest Muslim nation.  Best known to many travelers for its alluring beaches and exotic culture, the sprawling Southeast Asian archipelago encompasses more than 17,000 islands.
Indonesia's fame as a tourist destination obscures its enviable abundance of natural resources and biological diversity.  From its mega-city capital of Jakarta to its lush tropical rainforests, the dynamic developing country of Indonesia teems with people and fascinating, diverse species of animal and marine life.
Indonesia Map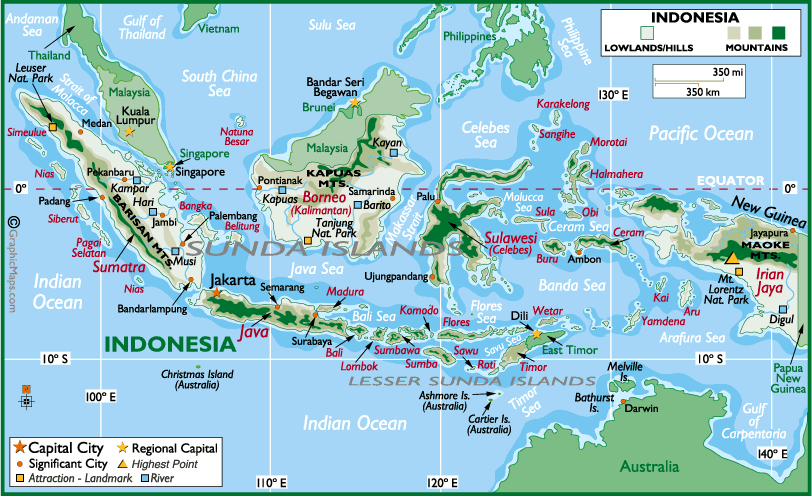 Indonesia Country Facts and Statistics
Population: 238 million people (world's 4th largest country by population)
Capital city: Jakarta
Language: Indonesian
Currency: Indonesia Rupiah
GDP: $867 billion (world's 16th largest economy; Centre for Economics and Business Research (CEBR) World Economic League Table, 2013)
GDP growth rate (actual and forecast): 6.5% (2011), 6.2% (2012), 5.6% (2013), 5.3% (2014), 5.8% (2015) (World Bank)
GDP per capita (International $, PPP): $4,875 (2012, World Bank)
Life expectancy at birth: 69.8 years (UNDP HDR 2013)
Mean years of schooling: 5.8 years (UNDP HDR 2013)
UNDP Human Development Index (HDI): 0.629, 121st, "Medium Human Development" (UNDP HDR 2013)
Social Progress Index: Overall – 58.98, 88th; Basic Human Needs – 63.65, 87th; Foundations of Wellbeing – 69.42, 61st; Opportunity – 43.86, 92nd
Legatum Prosperity Index: 69th of 142 countries; 32nd in Social Capital, 105th in Personal Freedom
Nature and Conservation
Indonesia's natural environment and resources shape the lives of its people and the path of the country's economic development.  The tropical island nation is home to some of the most biologically diverse rain forests and oceans on the planet.
Economic Growth and Development
Indonesia is considered one of a handful of successful emerging economies that some refer to as newly industrialized countries (NIC).  In recent years, the country has enjoyed robust economic growth that has expanded opportunities and helped many people and their families improve their incomes and look forward to brighter futures.  Although, most Indonesians have yet to transition from day-to-day work in the informal economy where they typically earn the equivalent of several dollars per day.
MINT Country
As a sign of its economic potential, Indonesia is one of four so-called MINT countries, along with Mexico, Nigeria and Turkey.  (An investing concept, the MINT countries are sometimes compared with the BRIC countries as emerging markets with the potential to yield out-sized financial returns over the long-term.)
Industry and the Environment
Owing to the country's ample supply of natural resources, the extraction and refining of fossil fuels and other minerals have accounted for a large share of GDP and export earnings.  Commercial and smallholder farming make up another sizable portion of the country's economy.
While generating needed income, mining and agriculture, the world's leading cause of deforestation, can pose considerable risk to Indonesia's sustainable development and amazing natural environment.
Care must be taken to ensure the extraction and processing of natural resources doesn't threaten Indonesia's biological diversity and natural capital or their potential to create better jobs in more sustainable industries like ecotourism.  Good environmental stewardship is also important for preventing commercial agriculture from undermining the livelihoods of local people accustomed to living directly off the land.
Other resource-rich countries have struggled to avoid the so-called "resource curse" that can impede the transition to a more productive, capital- and knowledge-intensive economy.
Social Media
If you're interested in learning more about Indonesia, there's probably a lot more information out there about this fascinating country than you might think. Thanks to its highly connected young population and long time spent in traffic jams among other factors, Jakarta has the world's most active population of Twitter users, though you might want to brush up on your Indonesian.
Related articles and content:
Jokowi – Indonesia's Rising Star
Other Global Sherpa country and topic pages: China, India, Brazil, Japan, BRIC Countries, Development, Sustainability, World Rankings