The Legatum Prosperity Index is a prominent ranking from the London-based Legatum Institute that analyzes countries' prosperity levels based on eight "foundations for national development:" economy, entrepreneurship and opportunity, governance, education, health, safety and security, personal freedom, and social capital.
The Legatum study finds that entrepreneurship and appetite for risk correlate more closely with a nation's overall prosperity than any other factor.  The social capital sub-index measures performance in two areas: 1) social cohesion and engagement; and 2) community and family networks.  Legatum's Prosperity Index report points out studies have found a correlation between the level of social capital and a country's rate of economic growth.
The chart below reproduces the Legatum Prosperity Index scores by foundational category for the top countries.  (Click on the image to view the full-size chart in a separate browser tab or window.)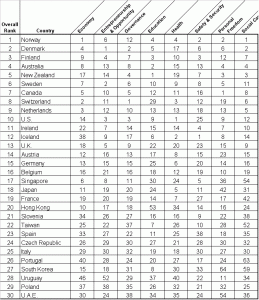 Related articles and content:
Behind Norway's #1 Prosperity Index Ranking
Analyzing Global Progress: Interpreting the 2010 UNDP Human Development Report and Index
Return to the World Rankings page.