The KOF Index of Globalization (2011) is a ranking of the most global countries based on three dimensions of globalization: economic globalization, social globalization and political globalization.
Globalization Index (Overall, Economic, Social, Political)
(Click on the images below to view the full-size chart in a separate browser tab or window.)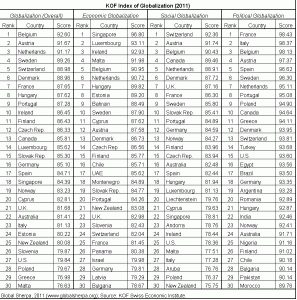 Globalization Index (Overall)

Economic Globalization Index

Social Globalization Index

Political Globalization Index

Related articles and content:
Behind Norway's #1 Prosperity Index Ranking
Analyzing Global Progress: Interpreting the 2010 UNDP Human Development Report and Index
Return to the World Rankings page.