The world's largest human migration takes place every year from about mid-January to mid-February.  That's when hundreds of millions of Chinese journey back to their hometowns to spend the Spring Festival with their families.  China's spring travel ritual is the grandest example of the great effort some three percent or so of the world's population makes to find new opportunities in distant lands.  This article explores how visualizing people on the move helps paint a picture of globalization and development.
China's New Year Migration
China's officials expect the nation's travelers to embark on a staggering 3.6 billion passenger trips during this year's Lunar New Year travel extravaganza.  Search engine company Baidu, China's answer to Google, launched a very cool heat map that visualizes people's trips as they happen through location-based applications in smartphones.
Known as "Baidu Migrate," the site reveals travel patterns across the country and between major cities.  In the screen capture below, the two most traveled routes start and end in Chengdu, the capital city of Sichuan province, and the national capital Beijing.  (Click on the graphic below to view the full-size map in a separate browser tab or window.)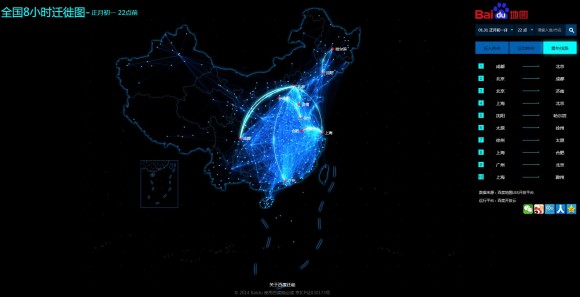 (Note: This post is still being drafted.  Please check back soon.  Thanks for your interest!)
Related articles and content:
Country and city profiles and topic pages: China, World Cities, Globalization, Development, World Rankings, BRIC Countries, India, Brazil, Japan, New York City
Chinese New Year – World's Largest Human Migration