The world bike and car markets offer interesting insights into the relationship between international development and the global environment. From 1970 to 2007, bicycle output nearly quadrupled, while car production roughly doubled. The Earth Policy Institute tracks world bicycle production as an indicator of the environment and state of the "eco economy." While more bikes are definitely good for the environment, a closer look reveals that a more complex combination of factors lies behind both the rise in global bike demand and divergence in world bike and auto production levels.
The chart below shows two interesting trends in world bicycle and automobile production over the post-war period. For one, the global production of bikes increased dramatically beginning in the early 1970s. After nearly doubling from 1950 to about 1970, worldwide bike production grew by a factor of six from just over 20 million units in 1970 to 130 million units by 2007. Secondly, the output of bikes has grown much faster than that of cars, with bicycle production outpacing auto output by a ratio of more than 2:1 since 1970 (Click on the image below to view a larger version.)
Climate Change Science and the Environment
At least part of the increase in world bike production is due to an increasing concern for the environment. Since 1970, considerable progress has been made in advancing climate change science and convincing public opinion that global warming and environmental degradation are relevant problems for most of the world's people.
Far less controversy has accompanied the intuition that riding a bicycle is good for human health and the environment. In recent years, many world cities have been promoting biking as a way to help alleviate troublesome traffic congestion, air pollution, and other environmental ills related to increasing urbanization. From 2006 to 2010, the city of Amsterdam in the Netherlands, which boasts some of the world's highest cycling rates, planned to invest more than $160 million in bicycle paths, parking, and safety. In Copenhagen, Denmark, where 36 percent of commuters biked to work by 2006, the city planned to invest $200 million in bike facilities between 2006 and 2024. In Freiburg, Germany, 70 percent of local trips are made by bike or public transit or on foot thanks to regular, annual investments in bicycling infrastructure dating back to 1976. In Australia, the state of Victoria, which is home to Melbourne, the country's second largest city, amended planning laws to require all new large buildings to provide bike parking and other facilities such as lockers and showers. As of 2008, the 50 largest U.S. cities had plans in place to double their bicycle and pedestrian routes.
Still, other than the Freiburg case, these examples mostly refer to more recent efforts that do not seem to do a very good job of explaining much of the earlier divergence in the levels of world bike and car production.
International Economic Development
Rather than an Eco Indicator of efforts at environmental conservation, the dramatic rise in the global demand for bicycles is as much or more a function and sign of the rapid economic development that has occurred around the world since 1970. At a tiny fraction of the price of cars, bicycles become affordable to much larger portions of the populations of developing countries long before cars do. As of 2009, private car ownership in China remained at just 26 million units in a country of 1.3 billion people with a long-standing one-child policy.
The timing of the sharp increase and divergence in bike and car production aligns well with a particularly productive time in the world's economic development. Over the period 1970-2009, the average increase in the Human Development Index (HDI), which correlates closely with per capita income levels, for countries around the world was a healthy 44 percent.
China – Global Bike Capital
China alone accounts for a large share of the growth in the world bicycle market. From 1949-1979 during the first three decades of Communist rule, people in China aspired to own three durable goods: a wristwatch, a bicycle, and a sewing machine. According to the website Chinability, by 1981, there were 135.9 bicycles per 100 households in urban areas. Though even that level of bike ownership left ample room for growing demand with a market penetration of 45 percent on the individual level for a family of three. In rural areas a year earlier in 1980, there were still only 36.9 bicycles per 100 households. As a clear sign of the pace of China's rapid economic growth, it took just four more years until 1984 for bike ownership in rural China to reach a level of one bicycle per household.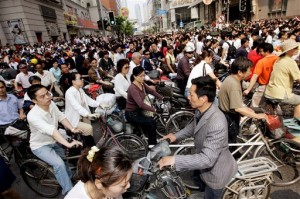 In addition to economic development enabling higher rates of market penetration, rising per capita incomes also give up-and-coming Chinese the means and motivation to replace old bikes with better, new models. One result of Chinese residents' move up the economic ladder and bicycle food chain has been strong growth in the world market for so-called e-bikes.
E-bikes
It turns out that electric bicycles, or "e-bikes," have accounted for a large portion of more recent growth in world bike demand and output, with production doubling from 2004 to 21 million units in 2007. E-bikes use a battery-powered electric motor to assist riders with pedaling. They can typically go as fast as 15 to 20 miles per hour (24 to 32 km/h) or more. Depending on the country, e-bikes are often classified as bicycles and not subject to the level of regulation or laws that can restrict the ownership and operation of cars and other motor vehicles.
Electric bikes require less work on the part of riders and make it easier to negotiate inclines, tolerate biking in hot weather, and, generally, bike under other more strenuous conditions. They also make biking more accessible to many countries' growing populations of aging residents. According to Hu Guang, Deputy General Manager of leading Chinese e-bike manufacturer, Xinri (which means "new day" in Chinese), "Motorcycles are too dangerous, cars are too expensive, public transportation is too crowded, and pedal bikes leave you too tired. So people buy e-bikes." Hopefully, some buyers also have other motivations, but the environment is still notably absent from this explanation.
In 2008, China bought 21 million e-bikes, compared with 9.4 million autos. In 2009, China had about four times as many e-bikes on the road as cars. As of early 2010, there were estimated to be a total of about 120 million e-bikes on China's streets and bike paths. In 2009, about 60 percent of Taiwanese Giant Manufacturing's 300,000 e-bike shipments went to mainland China.
In Germany, sales of e-bikes nearly tripled in 2007. Analysts forecasted 2010 sales of roughly one million e-bikes in Europe and 300,000 e-bikes in the U.S., about doubling the number sold in the U.S. in 2009. E-bike sales have also been growing rapidly in the Netherlands and India.
Gas Prices and Bike Demand
Like other bicycles, e-bikes are an attractive alternative to cars in more ways than one. In addition to carrying far lower price tags and facilitating mobility in crowded urban areas, they also cost far less to operate and keep on the road.
It's an unlikely coincidence that the divergence of bike and car production occurred just about the time of the 1972-73 Arab oil embargo that led to a dramatic and sustained increase in gas prices. Several sources point to a direct, eye-opening correlation between energy costs and motorized vehicle usage. The chart below from Jim Puplava's Captain's Log shows the interesting relationship between vehicle miles traveled and oil prices.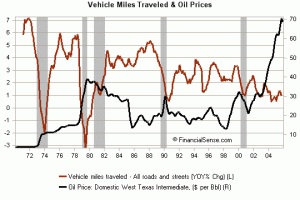 The oil crisis also led to a pronounced reduction in car and engine sizes in the U.S.
Innovation in the Bicycle Industry
In addition to economic development, new trends in popular culture and innovations in the bike industry are other important drivers of the growth in world bike production that seem to have limited environmental connections in most cases.
o Schwinn Sting-Ray – The introduction of the Schwinn Sting-Ray and other so-called "wheelie bikes" with large front wheels and banana-style seats kicked off a boom period in the popularity of biking in the U.S. during the 1960s.
o European-style derailleur-equipped "Sport Bikes" – The availability of lightweight, smooth-shifting European-style road bikes also helped fuel America's renewed interest in biking and "Bike Boom" of the latter 60's and early 70's.
o BMX dirt bikes – In the 1970s in the U.S., BMX dirt bikes and racing became popular as teenagers sought to imitate professional motocross racers popularized by the movie On Any Sunday. The BMX movement lasted a decade and accounted for one-third of all bikes sold in the U.S. in 1982.
o Mountain bikes and extreme adventure sports – During the 1970s in California, Joe Breeze, Gary Fisher, Charlie Keller, and Tom Ritchey were the leading figures in the development of modern mountain bikes. In 1979, Fisher and Keller started the Mountain Bikes Company using Ritchey frames. By a year later in 1980, they were awash in sales of their new high-end, off-road bikes. In 1983, Fisher founded Gary Fisher Mountain Bikes and the National Off-Road Bicycle Association. In 1993, Trek Bicycle Corporation acquired Fisher mountain bikes. (To learn more about the history of mountain biking, check out the documentary Klunkerz: A Film About Mountain Bikes. Homemade creations called "Klunkers" that adventurous types used to bomb down rough mountain fire roads were the precursors to modern mountain bikes.)
o Hybrid bikes – Hybrid bicycles are a more recent iteration that combine features of road bikes and mountain bikes. Hybrid bikes are purpose-built to suit the needs of commuters, shoppers, and casual bike riders. They are designed to be more comfortable and rider-friendly than their more specialized mountain and road bike cousins.
o Lance Armstrong and the Tour de France – The colorful stories around Lance Armstrong's domination of the world's most famous bike race inspired a whole new generation of Lance followers and weekend bike warriors. After recovering from cancer, Armstrong went on to win the grueling 21-day, 2,000-plus mile tour six consecutive years from 1999 to 2005.
Schwinn, Giant and the Mountain Bike
The history of the Schwinn bicycle company and growth of the mountain bike movement sets the stage for one of the long-running battles in the evolving world bike market.
In 1895, Ignaz Schwinn, a German-born bike designer, and Adolph Frederick William Arnold, a fellow German who made a fortune in Chicago's meat packing industry, incorporated Arnold Schwinn & Company with the goal of producing the most advanced bicycles available. In 1897, an estimated one in seven Chicagoans owned a bicycle and as many as two-thirds of U.S.-made bikes were manufactured within 150 miles of Chicago. By 1934, Schwinn sold 86,000 of the 194,000 bicycles produced in the U.S. thanks in part to innovations like balloon tire bikes and the Schwinn Aero Cycle. In 1950, one of every four bikes sold in the U.S. was a Schwinn.
In 1963, Schwinn introduced the legendary Sting Ray "wheelie bike." The Sting Ray boasted a host of cool features including "Texas longhorn handlebars," smooth tires, and a banana seat with a sissy bar. In a time when sales of 10,000 units was a good year for any model, Schwinn sold 45,000 Sting Rays and could not keep up with consumer demand.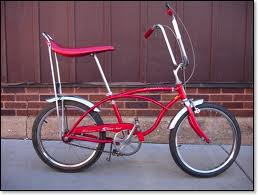 Despite the success of the Sting Ray, Schwinn began to feel the impact of a host of business issues including a newly unionized labor force, quality problems, and catching on late to both the BMX and mountain bike markets. By 1986, Schwinn outsourced 80 percent of its production to Giant of Taiwan in an attempt to cut costs and try to stay in business. By 1991, Giant was selling 300,000 bikes under its own brand in the U.S. compared to Schwinn's 500,000 odd units. In 1992, Schwinn filed for bankruptcy and was purchased by the Scott Sports Group in 1993.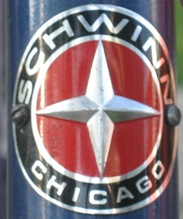 China – World Bike Factory, Supplier, and Consumer
Today, Giant manufactures most of its lower-end bikes at its plant in Kushan in Suzhou, China. Of Giant's global bike sales, 45 percent go to Asia, 28 percent to America, and 27 percent to Europe.
In 2007, about 90 million of the 130 million bikes manufactured worldwide were made in China. Two-thirds of the bikes produced in China were exports to trading partners. That means people in China alone bought about 30 million bikes or 23 percent of world output in 2007. China also produces about nine out of every ten bikes that Americans buy each year.
Back in 1991, the Chinese government made developing e-bikes an official technology goal. In 2006, there were 2,600 licensed manufacturers of e-bikes in China.
Related articles:
Amsterdam: Bike Riding Capital of the World
China's Development Plans Lead World, BRICs
BRICs, Emerging Market Consumer Insights
Chinese New Year – World Largest Human Migration
China Facts, Latest Live News and Original Articles
Analyzing Global Progress: Interpreting the 2010 UNDP Human Development Report and Index
Sign up for Global Sherpa's monthly newsletter to keep up with the latest articles on current topics in globalization, international development, and world news.
Visit the Global Sherpa home page.
Sources and further reading:
Bicycle Statistics: Usage, Production, Sales, Import, Export. International Bicycle Fund.
Davies, Ken. Consumer Durables Ownership 1990-2002. Chinability.
Gardner, Gary. Bicycle Production Reaches 130 Million Units. Worldwatch Institute.
The Gary Fisher Story. Fisher Bikes.
Giant Manufacturing – Mainland Drives Bike Sales. China Confidential. Financial Times. August 12, 2010.
History of the Bicycle. Wikipedia.
History of the Mountain Bike and Mountain Biking. Wikipedia.
Hu, Mei-chih and Ching Yan-Wu. Technological Innovation Paths Through Latecomers: Evidence from Taiwan's Bicycle Industry. Copenhagen, Denmark. Paper to be presented at the 25th Celebration Conference 2008 on Entrepreneurship and Innovation – Organizations, Institutions, Systems and Regions. June 17-20, 2008.
Jamerson, Frank and Ed Benjamin. EBWR 2010 Update. Electric Bikes Worldwide Reports.
Kurtenbach, Elaine. Bikes, China's Icon, Thrive Despite Car Invasion. The Huffington Post. July 7, 2008.
Lardy, Nicholas R. China's Economy: Problems and Prospects. Wachmen Center Newsletter. Foreign Policy Research Institute. Vol. 12, No. 4. February 2007.
The Last Chicago Schwinn. Re-Cycle.
Mikkolainen, Terhi. A Short History of Bicycles in China. All About China. radio86.com. November 30, 2007.
Pettinger, Tejvan. Cycling Rates by Country. Cycling Info. March 30, 2009.
Puplava, James L. Commodities: Bust or Boom? Captain's Log. Vol. 1, Issue 6. November 17, 2006.
Ramzy, Austin. On the Streets of China, Electric Bikes are Swarming. Time. June 14, 2009.
Rocks, David and Chen Wu. A Phoenix Named Flying Pigeon. Bloomberg Businessweek. September 20, 2004.
Roney, J. Matthew. Bicycles Pedaling into the Spotlight. Eco-Economy Indicators. Earth Policy Institute.
Rong, Feiwen. China 2009 Private Car Ownership Jumps 34% to 26 Million Units. Bloomberg Businessweek. February 25, 2010.
Roni. Electric Bicycle News from Around the World. Electric Bicycle Guide.
Savage, Bill (director). Klunkerz: A Film About Mountain Bikes. 2006.