The top world news stories for 2012 include the globalization of extreme environmental events, a string of high profile elections, the largest power blackout in world history, tension in the South China Sea, development milestones, inspiring inventions and the drama and spectacle of the London Olympic Games.
Globalization of Extreme Environmental Events
Hurricane Sandy proved even advanced western locales like New York City are anything but immune to the natural disasters that much more regularly strike less fortunate places in South Asia and Latin America.
Sandy left a path of devastation stretching from Haiti and the Dominican Republic to New York City and the Jersey shore. Damage estimates in New York and New Jersey alone exceeded $70 billion.
Just a few months earlier, arctic sea ice cover shrank to the smallest amount on record, contracting by more than half since 1970.
Further south, half of the continental U.S. experienced the worst drought in more than 50 years. The drought knocked out harvests and further incentivized an ongoing northward shift of crop production to cooler climates with longer growing seasons.  A breakthrough study by Stanford's Noah Diffenbaugh determined climate change would be a key driver of yields and price volatility for corn, the U.S.' No. 1 crop.
November marked the 333rd consecutive month – more than 27 straight years – of global temperatures above the 20th century average according to the U.S. National Oceanic and Atmospheric Administration (NOAA). NOAA released its State of the Climate Global Analysis in December 2012.  (Click on the image below to view the full-size graph in a separate browser tab or window.)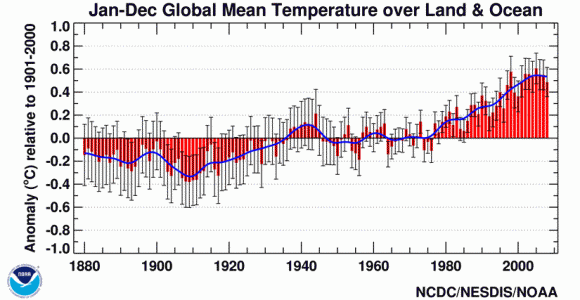 A provocative new World Bank report Turn Down the Heat: Why a 4C Warmer World Must be Avoided examined the extent of climate change and the sobering risks posed by global warming scenarios of 2 to 4 degrees Celsius.
Attesting to the globalization of environmental impacts and the lingering effects of Japan's 2011 Tohoku earthquake and tsunami, a ship and boat dock from Japan were among the debris that washed up on the west coast of North America.
Performance Gap Between Emerging, BRIC and Developed Markets
While most advanced economies continued to struggle through another difficult year and even the BRIC countries of China, India and Brazil showed signs of slowing, a host of emerging markets maintained a healthy pace of economic growth and development.  While forecasts for China and India have since been revised downward by about 1 to 2 percent, the chart below from The Economist from January 2011 is indicative of the strong growth in many African countries.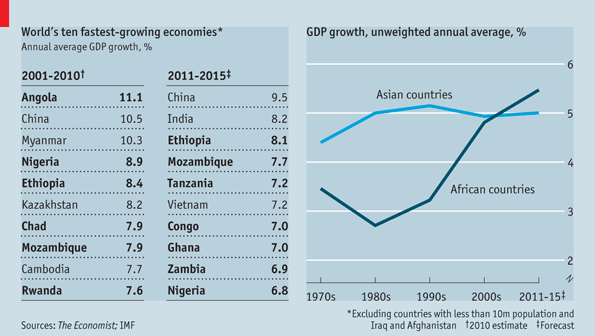 A promising new report showed evidence of significant reductions in income inequality across many countries in Latin America, a region long saddled by sharp economic divides. Among other factors, credit goes to many countries' economic successes and redistributive cash transfer programs, such as Mexico's Oportunidades and Brazil's Bolsa Familia.
Year of Elections
2012 saw a string of new leaders come to power around the world.  In East Asia alone, China, Japan, and South Korea all saw leadership transitions, with South Korea electing its first female President in Ms. Park Geun-hye.  An unlikely pairing, North Korea and Spain, just missed the annual deadline with new leaders taking up their posts in December 2011.  In Russia and Japan, Vladimir Putin and Shinzo Abe returned to their old posts, though many would say Putin never really left his.
Despite a passionate, vocal opposition that had high hopes for charting a new course in Russia, Putin won a third term as President, swapping roles with Dmitri Medvedev who officially claimed the title of Prime Minister.  In the process and aftermath, the Russian government ramped up a concerning crackdown on the activities of foreign non-profits.
In Japan, Shinzo Abe ascended to the post he previously held for exactly one year in 2006-07 becoming Japan's seventh Prime Minister in six years.  At this point, it's hard to see how Japan's retreat to the long dominant Liberal Democratic Party (LDP) is a mandate for the long overdue changes that Japan needs.
Spain's new Prime Minister, Mariano Rajo Brey, faced one of the toughest first years in office, confronting a banking crisis and unemployment of more than 25 percent.
In Venezuela, fans of the weekly radio program "Alo Presidente" were reassured when Hugo Chavez won a fourth term as President after 14 straight years in office.
In the long run, China's Xi Jinping may have the greatest opportunity to help set the world on a path to more sustainable development.
Diverse Coalition Reelects Barack Obama
The support of ethnic minority voters played a key role in President Obama's return to office. Obama won 80 percent of the votes cast by minority groups, which are on track to become a majority of the U.S. population by 2050. In stark contrast to this diverse coalition, nearly 87 percent of registered Republican voters are white, according to the Pew Research Center.
China Party Congress Annoints Xi Jinping
China conducted its once-in-a-decade ritual of selecting a new ruling cadre. As widely anticipated, Xi Jinping was officially tapped to become the country's new leader, following a short stint of drama in which he disappeared from public view.
Mr. Xi has his work cut out for him as China's new government confronts the many challenges that come with developing the domestic economy, combating debilitating pollution and shifting to more sustainable development, accommodating an increasingly vocal and restless public, and assuming a more prominent role on the world stage.
Myanmar
Daw Aung San Suu Kyi, the celebrated Burmese dissident who lived under house arrest for two decades, led her National League for Democracy party to an impressive victory in 43 of 45 contested districts. Myanmar's transition kicked off a fevered push by multinationals to stake out a position in the resource-rich emerging market.
During a trip to Asia in November, President Obama stopped in Myanmar as part of the administration's strategy to engage Southeast Asia and counterbalance China's growing influence in the region.
A key question remains how the positive changes in Myanmar will translate into empowering and improving the lives of the country's poor.
South China Sea
The South China Sea played home to a host of tense territorial disputes in East Asia among China, Japan, South Korea, Vietnam, Taiwan and the Philippines. The area is home to a third of world shipping, substantial fishing stocks and potentially vast underground energy resources.
Japan rekindled a long-standing dispute by purchasing the Senkaku islands, known to Chinese as the Diaoyus, from a private Japanese owner. The provocative move prompted a wave of anti-Japanese riots across China in August and September that led Toyota and Honda to shut down factories on the mainland.
Surrounded by rich fishing grounds and natural gas deposits, the Takeshima islands are claimed by Japan but administered by South Korea. A visit by outgoing President Lee Myung-bak to the territory South Korea calls Dokdo prompted Japan to recall its ambassador from Seoul in protest.
The Philippines boldly challenged China over its increasingly aggressive stance on rights to the South China Sea.  In November, China's Hainan province, which administers the country's claims in the South China Sea, asserted the right to intercept the ships of other nations.
The cover story of The Economist's September 22 weekly edition featured the title "Could Asia really go to war over these?" The magazine downplayed the risk of war but suggested the issue raised concerns about the region's ability to diplomatically diffuse a potential conflict on the Korean peninsula that could prove more serious.
India Power Blackout Leaves 670 Million in Darkness
In July 2012, India experienced the largest power blackout in world history. The incident affected 670 million people or just under 10 percent of the entire world population. The outage stretched some 2,000 miles from India's eastern border with Pakistan to its western boundary with Myanmar according to The New York Times.
One group of Indians that wasn't affected by the blackout was the 300 million or so people who do not even have access to the electric grid when it is working. Around the world, some 1.6 million people are energy poor without access to electricity.
20 Years of Sustainable Development and Climate Change Milestones
The long-awaited Rio+20 meeting in Brazil marked the 20th anniversary of the 1992 United Nations Conference on Environment and Development. The event served as a reminder of both the progress and growing challenges in sustainable development and climate change. The meeting took place against a backdrop of concerns that climate change and insufficient action on sustainability could undermine and even undo the considerable progress in reducing poverty and improving livelihoods in developing countries.
Longer Lives, More Chronic Ailments
From 1970 to 2010, global life expectancy increased from 61.2 to 73.3 years for women and from 56.4 to 67.5 years for men, according to a massive study of 187 countries – the Global Burden of Disease report – published in The Lancet in December and funded by the Bill & Melinda Gates Foundation. Child mortality declined by more than 60 percent.
The downside of longer life expectancies shows up in the rise of chronic diseases and ailments associated with lower quality of life beyond age 50.
In 2010, heart disease, smoking and alcohol took over as the top three factors in the global disease burden, as deaths from infectious diseases declined considerably. While economic growth, smaller families and aging were the key long-term drivers of global health developments, a host of cost-effective interventions have also played an important role. Chief among these are improved access to health care and medicines, such as anti-retroviral treatments.  The chart below from The Economist provides a helpful visualization of the shift in the global burden of disease from 1990 to 2010.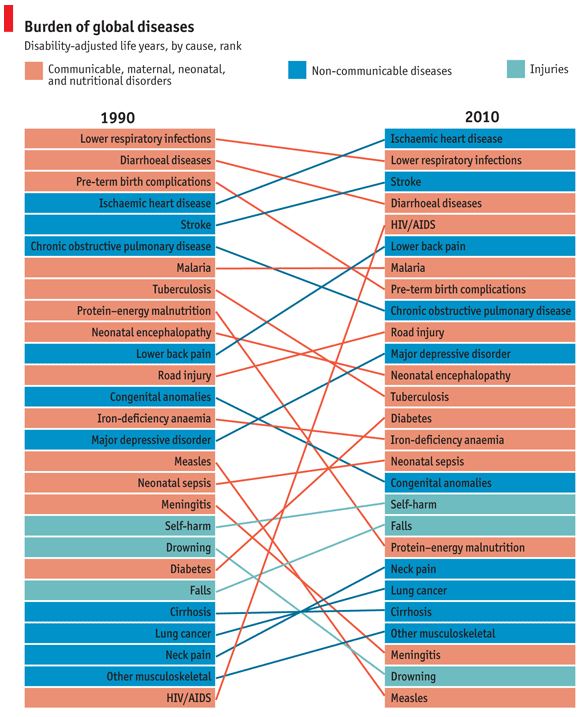 The Gates Foundation also drew attention to the critical role that sanitation plays in health and life expectancies, particularly in poor areas of developing countries. Despite India's considerable progress, more Indians have access to mobile phones than toilets.
London Olympics
London played host to the long-anticipated drama and excitement of the Summer Olympics. A trio of historic individual accomplishments vied for the most media attention at the games.
U.S. swimmer Michael Phelps successfully completed his quest to become the most decorated Olympian ever.
Flashy, uber-confident Jamaican sprinter Usain Bolt convincingly affirmed his claim to the title of World's Fastest Man with victories in the 100- and 200-meter dashes.
Delighting the home crowd, Mo Farah became the first British citizen to win the Olympic 10,000 meters final. An adopted native son, Farah first arrived in the U.K. at age eight from his war-torn homeland of Somalia only able to speak a few words of English.
To test your knowledge of the games and relive a few highlights, try taking the Guardian's London Olympics quiz.
Clever Inventions
The year also saw several clever inventions with the potential to significantly improve opportunities and address sticky global challenges.
Israeli inventor Izhar Gafni (pictured below) created a sustainable cardboard bicycle with a frame stronger than carbon fiber that supports riders up to 485 lbs and is designed to be mass-produced for as little as $9-12 per unit ($5 for a kid's model). A "secret mix" of organic materials render the bike both waterproof and fireproof. The wonder-bike could revolutionize access to transportation and public services for the poor.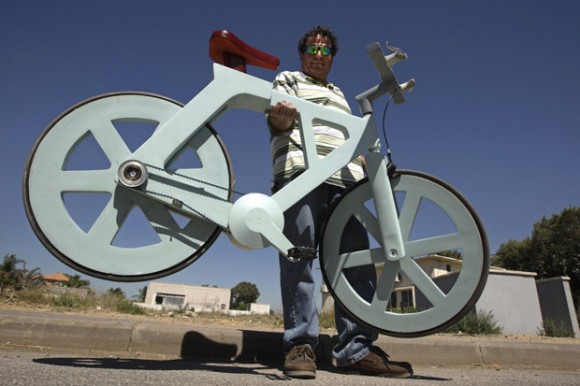 Massoud Hassani, a designer from the Netherlands who grew up in Afghanistan, invented a minesweeper made of biodegradable plastic and bamboo that can safely detonate the active land mines that still remain littered across old battle fields. In Afghanistan, some one million people live within 500 meters of areas thought to contain landmines according to a report cited in an article on Fast Company's Co.EXIST site. Each "Mine Kafon" can withstand three to four detonations and is designed to be assembled on-site with an estimated materials cost of $53.
[youtube_sc url="ScaDOpTcsmY" title="mine%20kafon%20massoud%20hassani%20tedx%20utrecht%20talk" border="1″ autohide="1″]
Follow @GlobalSherpa

Honorable Mentions
London Mayor Boris Johnson
The Summer Olympics added to the legend and legacy of London's endlessly entertaining mayor Boris Johnson. Mr. Johnson appeared as a special guest to ride a zip line set up in London's Victoria Park as part of the Olympic festivities. Unfortunately, the good mayor, sporting a suit, hard hat and two British flags, ground to a halt just 65ft (20m) shy of the end of the 1,050 (320m) line, leaving him to dangle in mid-air for about five minutes. The good-natured mayor took it all in stride waving his flags and leading the audience in a cheer.
[youtube_sc url="3hRwnXmdRCo" title="london%20olympics%20mayor%20boris%20johnson%20zip%20line%20incident" border="1″ autohide="1″]
North Korean Dictator Kim Jong-un
Another honorable mention goes to the youthful Supreme Leader of North Korea, Kim Jong-un, who succeeded his father, Kim Jong-il, in December 2011. TIME magazine declared the 28ish Mr. Kim was having a pretty good year after online voters picked him for the Most Important Person of 2012. Kim's success was tempered by the launch of a satellite, which, on the fifth try, finally made it into orbit but turned out to be a dud with a malfunctioning transmission signal.
South Korean Wunderkind Psy's Gangnam Style
Korean pop-star Psy took the world by storm with the irresistible, irreverent dance tune Gangnam style. In December, the international smash-hit became the first Youtube video ever to register 1 billion views, reportedly earning a cool $2 million on Youtube alone in the process.
[youtube_sc url="9bZkp7q19f0″ title="psy%20gangnam%20style%20video%20korea%20k-pop" border="1″ autohide="1″]
Follow @GlobalSherpa

Related articles and content:
Global Sherpa country profiles and topic pages: BRIC Countries, China, India, Brazil, Japan, South Korea, Development, Sustainability, World Rankings
Top 10 World News Headlines and Stories of 2010
BRICs, Emerging Market Consumer Insights