While infrastructure isn't exactly the sexiest topic in international development, it's hard to argue with its importance.  India's massive power blackout in July, the largest in world history, is a stark reminder of infrastructure's critical role in economic development.  The quality of infrastructure in China and India says much about why India's manufacturing sector has lagged behind while China transformed itself into the world's factory.
Brazil has experienced five lesser known power failures of its own since September, including one that knocked out power to 11 states.  The transportation of raw materials and finished goods in Brazil is stifled by the poor quality of ports, railways and roads, a mere 14 percent of which are paved.
The 2012 annual report of the International Finance Corporation (IFC), a member of the World Bank Group, estimates that developing countries will require $1.1 trillion in infrastructure investment annually.  A survey of business leaders identified India's underdeveloped infrastructure as the nation's top priority.
Roads, ports, railways, electricity and information communications technology are all vital enablers of economic growth and better living standards in emerging markets and developing countries around the world. BRIC countries like India, Brazil and China have all announced significant commitments to infrastructure development.  The success of these efforts will depend on their capacity to follow through on these commitments and a number of critical project design and implementation issues, including cross-sector cooperation in the form of public-private partnerships.
India's Energy Infrastructure and Power Blackouts
India's electrical blackout on July 31 affected about 670 million people or just under 10 percent of the entire world population.  The outage stretched some 2,000 miles from India's eastern border with Pakistan to its western border with Myanmar according to the New York Times.
The nation-wide outage was far from an isolated incident.  The quality of India's electricity supply ranks 110 out of 144 countries, putting it behind Mali and just ahead of Ethiopia in the World Economic Forum's Global Competitiveness Report 2012-2013.  Lack of reliable power has greatly hindered India's ability to develop a manufacturing sector that could compete with China.  In India, Brazil and other developing countries, infrastructure issues have deterred much-needed foreign direct investment (FDI) and undercut rates of economic growth and development.
Indians are known for their jugaad, or resourceful ingenuity in the face of constraints.  When it comes to electricity, Indians have become so used to compensating for inadequate infrastructure that their extensive, everyday reliance on generators and other makeshift solutions helped to cushion the immediate blow from the July blackout.  On the other hand, this admirable capacity for self-reliance could actually get in the way of addressing the widespread corruption that exacerbates India's infrastructure challenges.
One group of Indians that wasn't affected by the blackout was the 300 million or so people who do not even have access to the electric grid when it is working.  Around the world, some 1.6 million people are energy poor without access to electricity. The world map below shows recent (2009) and projected (2030) populations that live in energy poverty based on data from the International Energy Agency (IEA) as presented by the World Business Council for Sustainable Development (WBCSD).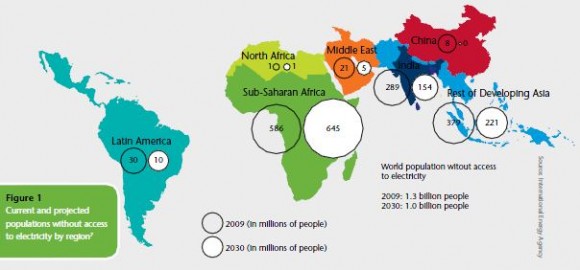 Education to Sanitation
As the example of energy poverty illustrates, infrastructure affects everything from access to education and health services to sanitation.  In Bihar, India, a program that gives a bike to girls who otherwise wouldn't have a means of getting to school has led to much higher enrollment rates and even improved girls' status in their families.
In developing countries, lack of access to safe water and modern toilets still cause millions of preventable fatalities every year.  Jairem Ramesh, Minister of Rural Development, was quoted in the Financial Times describing India's sanitation challenge as "humongous" and blamed poor hygiene and diarrhea for annual losses of some 400,000-500,000 children under age five.
Quality of Infrastructure in the BRIC Countries
Brazil's overall quality of infrastructure, at 107 out of 144 countries, ranks well below those of fellow BRIC countries, India at 87 and China at 69, and nearly on par with that of Russia at 101 based on the World Economic Forum's assessment.  Overall results can mask large variations in the quality of different types of infrastructure.  While Brazil fares relatively well on the quality of electricity supply despite the spate of recent outages, manufacturers complain about Brazil having the world's fourth highest utility rates.  The chart below presents the infrastructure quality rankings for the BRIC countries and a selection of OECD countries for comparison purposes.  (Click on the chart below to view the full-size image in a separate window or browser tab.)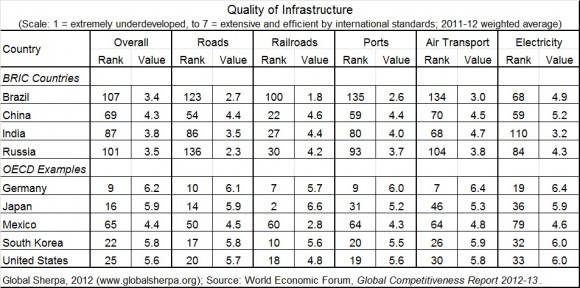 Infrastructure Development in Brazil, India and China
Brazil's government plans to spend some 163 billion reais ($80 billion) or 1% of GDP, on infrastructure as part of its "growth acceleration" from 2011-2014 according to the Economist.  On the other hand, a 2010 report by Morgan Stanley calculated that Brazil would require infrastructure investment of 6 to 8 percent of GDP annually to catch up with South Korea in 20 years and 4 percent to pull even with its smaller Latin American neighbor Chile.
China and India both have five-year plans that call for aggressive infrastructure investment.  China's 12th Five Year Plan (2011-2015) continues to emphasize massive infrastructure development and exports, along with clean energy, as a recipe for economic growth, which together are forecasted to create 45 million new jobs.  Among other infrastructure investments, the plan includes:
RMB 5.3 trillion ($840 billion) in energy by 2015 and a total of 11.1 trillion ($1.76 trillion) in the power industry over the next 10 years;
RMB 700 billion ($112 billion) annually in rail projects to expand high speed rail and connect every city with a population of at least 600,000 people;
Extending China's highway network to 83,000 kilometers; and
Building a new airport in Beijing and increasing China's total number of airports from 175 to 220.
To further spur development and help stave off an economic downturn, China unveiled the approval of 60 additional infrastructure projects worth more than $150 billion at September's annual convening of the Asia Pacific Economic Cooperation (APEC) Summit in Vladivostok, Russia.
India's ambitious 12th Five Year Plan (2012-2017) calls for $1 trillion in infrastructure investment, with the goal of funding half of that hefty sum through private sector involvement in public-private partnerships (PPPs).  As in other BRIC countries, the scope of India's infrastructure challenges correspond to the country's expansive geography and ample development needs.  At 3.14 million kilometers, India has the second largest road system in the world behind the U.S.  In 2009, India needed to build 20 kilometers of road per day at a cost of $70 billion over three years to ensure future economic growth.  Described as a "lifeline to the nation," India Railways operates the world's second longest railroad network and is the nation's largest employer.
Among other measures, India's infrastructure development plans call for:
$42 billion in road-related infrastructure, including doubling the size of the country's 70,000 kilometer highway network;
$67 billion in rail-related infrastructure to expand routes to ports and the country's vast interior and improve shipping capabilities, among other objectives; and
Upgrading infrastructure in Delhi and other cities to support the nation's rapid urbanization.
BRICs Development Bank
To help pursue these infrastructure goals, the BRIC countries, including South Africa, first discussed creating their own South-South development bank at the fourth BRICS summit in New Delhi in March, 2012.  The idea seemed to be gaining momentum as the countries moved from considering "if" to "how" such a bank would be formed and function at a meeting in Chongqing, China in late September.
A BRICS development bank would be "the first major multilateral lender to emerge since the European Bank for Reconstruction and Development in 1991" according to the Financial Times.  Supporters of the concept include prominent economists like Joseph Stiglitz and Nicholas Stern who have argued that the bank could help address important global challenges, such as the adoption of green technologies to ward off climate change.
Despite the concept's potential, a host of prickly issues have yet to be worked out before there is any real indication of whether a BRICS development bank will become an economic or political force in international development.
Infrastructure Investment: Private Sector Role
Government institutions and international organizations like development banks play key roles in mitigating risks and overcoming market failures that often stand in the way of badly needed investments.  Private sector participation is usually critical for supplying the funding, technical expertise and implementation capabilities that are necessary for undertaking complex infrastructure development projects.
Government entities, often at the state or city level, typically act as project sponsors and bid out contracts to private companies.  The capacity and conduct of government sponsors can have a major impact on the initiation and delivery of infrastructure development projects.  Governments need to be able to efficiently and competently identify and execute deals with private partners and manage projects over the course of their lifecycles.
Ajit Gulabchand, chairman and managing director of Hindustan Construction Company, credits public-private partnerships with greatly accelerating the pace of road construction in India.
Overcoming Obstacles in Infrastructure Development
Government Regulations
Part of government's role involves working with the private sector to remove cumbersome, time-consuming regulations that impede infrastructure development. Excessively long waits for acquiring business permits and property rights and environmental laws that have little to do with real conservation are just a few examples of the potentially endless list of regulatory blockades.  The Economist sites a case in Brazil where an investor had to wait months for 21 different government entities to sign off on granting control of a port terminal.
Government's responsibility for administering land acquisitions and environmental clearances should be designed into project plans from the outset according to a report by the Asian Development Bank (ADB) and India's Department of Economic Affairs (DEA). Private sector partners want assurances that these issues will not delay or block prospective projects.
Project design and planning must also responsibly provide for the needs of any local communities and people who are impacted by land transfers. This is particularly true in countries and regions where poor people lack land and property rights and are especially vulnerable. To prevent this scenario and protect individuals' rights, project feasibility and design studies should be sure to carefully assess the needs of local communities and make sure they are represented in decision-making processes.
Corruption
Infrastructure development can be disconcertingly vulnerable to corruption, particularly in countries with fewer legal protections and less accountable governments.  Where the rule of law and transparency are weak, infrastructure deals often take place behind closed doors through uncompetitive processes.  Over-priced contracts are awarded to sub-par contractors who manage to sidestep project budgets and timelines.
In the absence of well-designed public-private partnerships, time and cost overruns have tended to be the norm in India's roads projects according to research cited by Charles Kenny in a World Bank working paper, Publishing Construction Contracts and Outcome Details.  In fact, more than half of all roads projects took more than 50 percent longer to complete than expected, as shown in the chart below.  (Click on the image to view the full-size chart in a separate browser tab or window.)

Kenny goes on to explain how corruption often leads to shoddy implementation and quality concerns.  Cutting corners on substandard materials and building procedures can limit a road's capacity and reduce its useful life by half, upend the return on infrastructure investments, and even put lives at risk by leaving poorly constructed buildings and bridges vulnerable to earthquakes and other natural disasters.
In his World Bank research and a more recent paper for the Center for Global Development with Jonathan Karver, Kenny argues that proactively publishing government contracts could be an effective, straightforward approach to countering corruption.  A requirement to publicly disclose contract details could improve government decision-making and competition while reducing contract costs and corruption.
Sustainability
Sustainability is a critical criterion for infrastructure investments.  China is the world's largest emitter of climate-altering greenhouse gases.  Water stress and scarcity are serious concerns for developing and developed countries around the world.  India will experience a water shortfall of 50 percent by 2030 according to projections by the Water Resources Group, a project sponsored by the International Finance Corporation.  Rising affluence and rapid urbanization in the BRIC countries and other emerging markets put an increasing burden on natural resources.
Fortunately, China, Brazil and India are all taking measures to promote sustainable development, though more needs to be done.  China's 12th Five Year Plan promotes clean energy both as a strategic industry and as a means of limiting carbon emissions and air pollution that chokes many of China's cities.  By 2020, China aims to cut the carbon intensity of its economic output by 40 percent.  Each country is pursuing a mix of clean energy solutions that includes some combination of solar, hydroelectric and nuclear power.
More importantly though, infrastructure projects in all countries need to be evaluated and made to adhere to feasibility and performance criteria that strike a sustainable balance between economic growth, protection of the natural environment and the well-being of the people and communities who come before them.
Closing Thoughts
Infrastructure investments hold the great promise of accelerating economic development, expanding opportunities and improving lives.  Private sector companies would do well to follow the lead of social entrepreneurs who look to these infrastructure challenges as opportunities rather than obstacles. Both governments and companies should recognize their social obligation to look out for the welfare of local communities and environments while pursuing broader development goals. While easier said than done, citizens should strive to hold their public leaders responsible for making the long-term investments that are vital to promoting inclusive development and better living standards.
Related articles and content:
Global Sherpa country profiles and topic pages: BRIC Countries, China, India, Brazil, Development, Sustainability, World Rankings
China's Development Plans Lead World, BRICs
China and India – Planning vs. Jugaad
China in Africa: South Africa Joins BRICs Summit
BRICs, Emerging Market Consumer Insights
The Great Global Water Squeeze