From great snorkeling and diving to blood-pumping jungle hiking to ancient Mayan sites and ruins, the little Central American country of Belize packs in a wealth of exciting and memorable travel adventures.  Along the way, lucky visitors experience pristine, emerald-colored waters, a rainbow of amazing marine life, and a fascinating variety of jungle flora and fauna.
Belize Map – Central America's Caribbean Coast
Belize is nicely situated on the balmy Caribbean coast of Central America.  As the northernmost Central American nation, Belize is bordered by Mexico to the north, Guatemala to the west and south, and the Caribbean Sea to the east.  The entire mainland of the country reaches only about 180 miles long and 68 miles wide.  (Click on the image below to see a larger version.)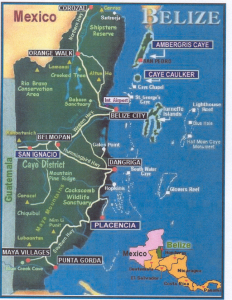 [adrotate banner="6″]
Cayes, Wildlife, Mayan Sites and Ruins
Located about 11 miles northwest of Belize City, Belize's international airport (BZE) in Ladyville is the main route in and out of the country for those who don't arrive by land or cruise ship.
Incidentally, Ladyville is also home to Belize's national beer, Belikin, which comes in three varieties (Belikin, Lighthouse Lager and Belikin Stout) and sports a picture of the country's most popular Mayan ruin site, Altun Ha, an important trading and agricultural town that peaked from 300 to 1000 AD.
From the airport, travelers can head in several directions.
A high-speed water taxi from nearby Belize City to the islands of Caye Caulker and Ambergis Caye, home to San Pedro, is probably the most popular route to Belize's beautiful ocean waters.  Shorter travel times can be had on a Tropic Air flight to one of the northern cayes' lone landing strips.  Now a bustling tourist attraction, San Pedro, the compact, somewhat busy capital of Ambergis Caye, is also the famous subject of the Madonna song La Isla Bonita, which translates to "the beautiful island."  If the main streets of San Pedro have become a bit more hectic since the town was immortalized by the Material Girl, Caye Caulker still retains more of the relaxed, laid back feel of a Caribbean island village.
A short jaunt up one of the northern highways leads to the Mayan ruins of Altun Ha or the Crooked Tree Wildlife Sanctuary.  A small community of Creole descent, Crooked Tree is touted as one of the country's best areas for bird watching and taking in Belize's wealth of exotic ornithological fauna.
A trip down the Western Highway takes you to the popular inland destination of San Ignacio in the Cayo District.  San Ignacio makes a good base for exploring nearby Mayan sites, including Cahal Pech, on the city's southern outskirts.  The oldest known Mayan site in the Belize River Valley, Cahal Pech was first settled between 1500 and 1000 BC and flourished for some 2000 years.
Further south, enterprising travelers can enjoy miles of beaches, swaying palm trees and warm waters near Hopkins, Sittee Point or Placencia.  Each area is within easy reach of excellent snorkeling and diving along the barrier reef around Tobacco and South Water Cayes and Glover's Reef Marine Reserve beyond the barrier reef for those willing to venture a bit farther out.  Fascinating inland adventures include day trips to the Cockscomb Basin Wildlife Sanctuary and Jaguar Preserve and the less well-known Mayflower Bocawina National Park.
In case you happen to find yourself waiting for a flight on a Tropic Air prop plane en route to the northern cayes, Placencia or Tikal in Guatemala, Jets Bar in the airport departure lobby is a colorful, cozy watering hole to get you in the right frame of mind.  Jet's grandson or Jet himself will be more than happy to serve you your first Belikin or Jet's famous rum punch and a tasty hot dog with the works to tide you over to the next stop.
Caye Caulker
After humming across glistening blue and green waters for about 45 minutes, the water taxi from Belize City makes its first stop at Caye Caulker.  As soon as you hit the shore, you'll quickly get a sense that Caye Caulker moves to its own beat, fitting its well-deserved billing as the tranquil, laid back member of Belize's northern cayes.  Caye Caulker might be described as lightly developed, with just enough business establishments and services to make for a comfortable vacation without jeopardizing the local culture and authentic tropical island atmosphere.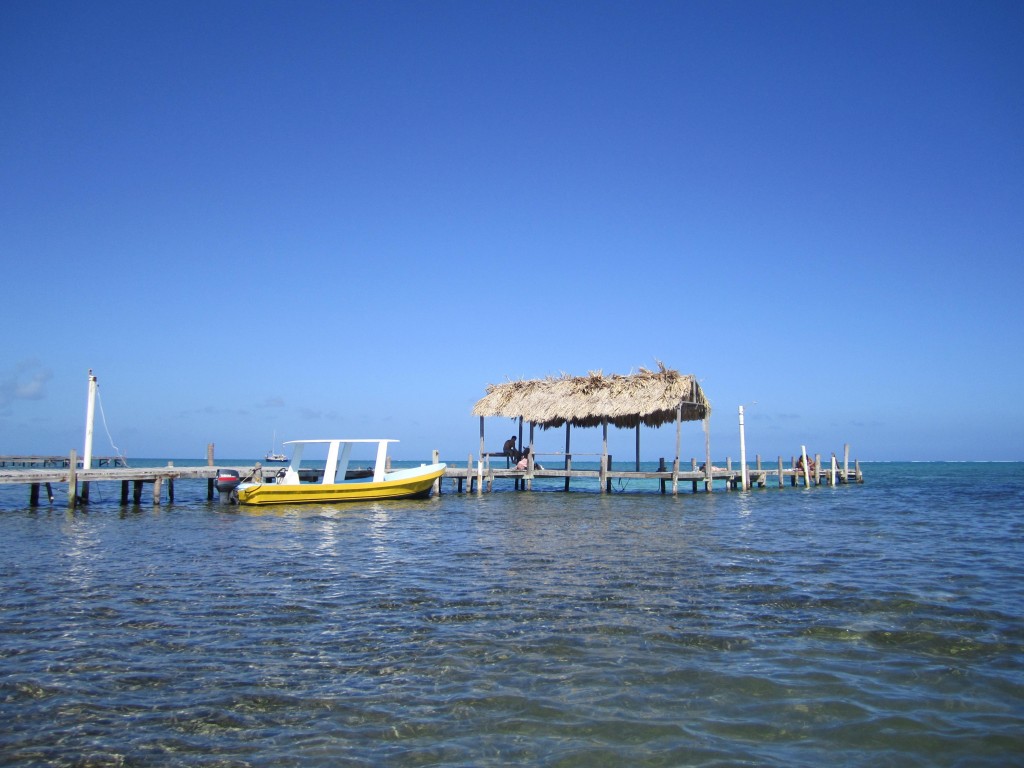 Click here to read more about visiting Caye Caulker.
Exploring Belize's Natural Beauty and Biodiversity
Caye Caulker and its surroundings are just a microcosm of Belize's abundant natural beauty, which shows up in a fascinating array of diverse marine, animal and plant life.  Despite having a land area just over 5 percent that of the state of California, Belize hosts one of the richest, most biologically diverse ecosystems in world.
Belize Barrier Reef Snorkeling and Diving
Travelers flock to Belize's gorgeous waters to snorkel and dive among the wonders of the Belize Barrier Reef Reserve System.  Second in size only to Australia's Great Barrier Reef, the Belize Barrier Reef is the largest in the Western Hemisphere, stretching a full 186 miles from Cancun, Mexico on the Yucatan Peninsula to Honduras.  The Reserve System encompasses seven marine reserves, more than 450 islands or cayes, and the Great Blue Hole, famous for its deep sea diving and intense blue color.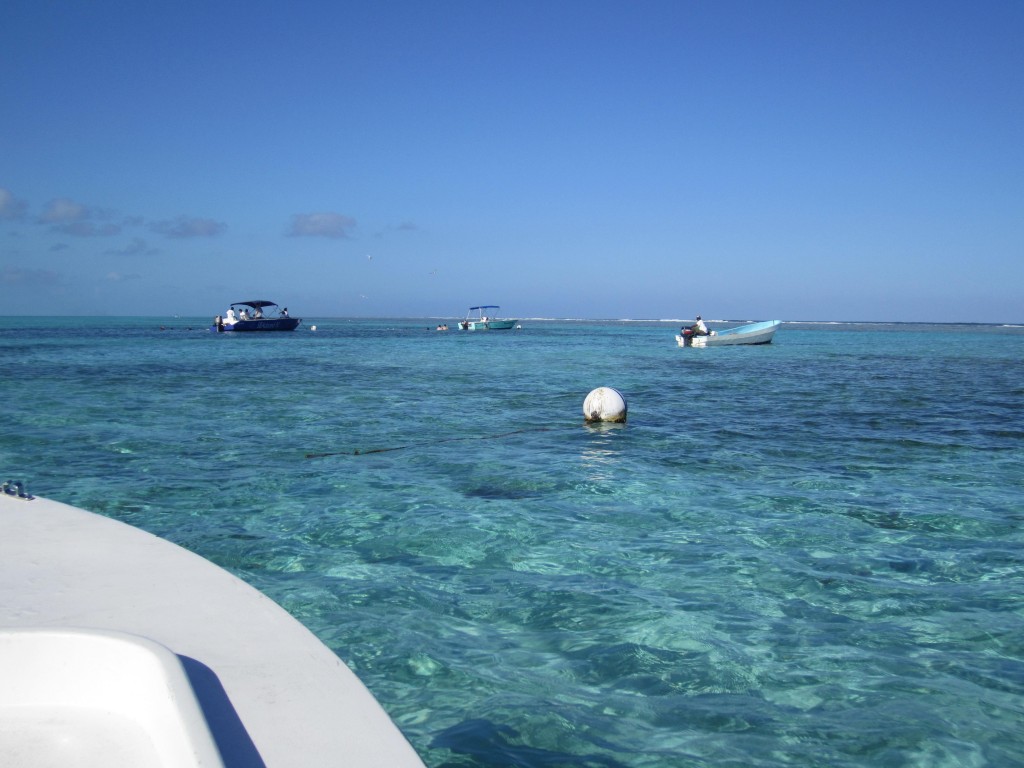 Belize's reef system is one of the world's most ecologically diverse marine environments, including the Barrier Reef itself, fringing reefs along the mainland coast, and three offshore atolls (Lighthouse Reef, Turneffe Atoll and Glover's Reef), which are usually found in the Pacific atop submerged volcanoes.  The system is known to support more than 300 species of fish and about 65 varieties of coral.  Although, it's thought that as much as 90 percent of all reef species, especially small invertebrates, have yet to even be discovered.
Due to its great natural beauty and ecological significance, the Barrier Reef Reserve System has been designated as a UNESCO World Heritage Site since 1996.
Hol Chan Marine Reserve
One of Belize's most popular spots for snorkeling and diving along the barrier reef is the Hol Chan Marine Reserve.  Located not far off the coast of San Pedro and Ambergis Caye, Hol Chan is also easily reached by guide boat from Caye Caulker.
Hol Chan is Mayan for "Little Channel," referring to a narrow, natural break in the barrier reef.  The channel walls support spectacular coral formations and an abundance of diverse marine life.  Green, pink and blue princess parrot fish, large black and endangered white grouper, and curious sea turtles were among the highlights of our Hol Chan snorkeling trip.  The great picture of the princess parrot fish below looks like those we were lucky to see, but our underwater pictures didn't turn out nearly this well.  Let us know if you happen to have a source so we can send the well-deserved credit their way.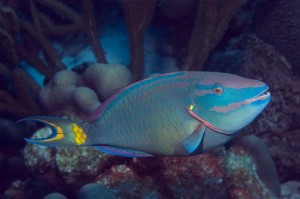 Shark Ray Alley
Standing in the middle of a swirling swarm of friendly stingrays and nurse sharks is another highlight of a Hol Chan snorkeling adventure.  Away from the coral, shallow sea grass beds and conch shells provide habitat and food for both species.  At a similar spot closer to Caye Caulker that's frequented by local guides, the rays and sharks were so thick that it was literally hard to get out of the boat without landing on one.  The pictures below show a few underwater shots from getting up close and personal with the local shark and ray population.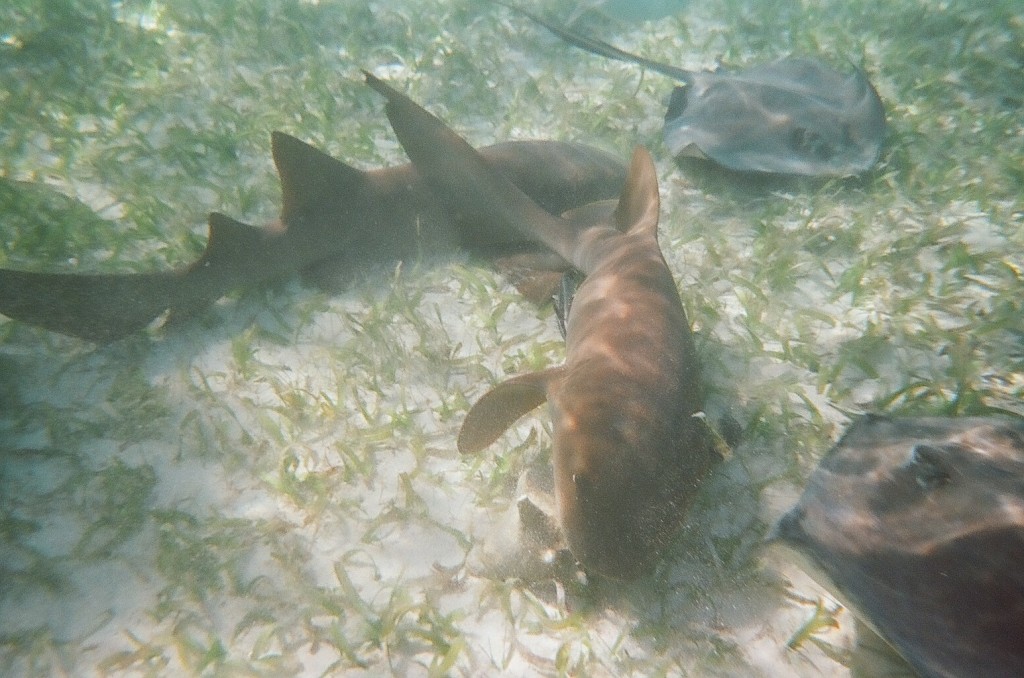 Beyond Belize City
Your hotel or local tour companies will be more than happy to take the work out of arranging day trips to Altun Ha, Crooked Tree, the Belize Zoo and other attractions without relocating from Caye Caulker, San Pedro or elsewhere on Ambergis Caye.
To see another side of Belize and gain a richer perspective on the country, you need to venture beyond the beautiful northern cayes and immediate area around Belize City.  You can rent a car, hop on a bus or snag a Tropic Air flight to travel inland and find a new base of operations that will let you experience the wonders of Belize's lush tropical landscape, dense jungles, and more remote Mayan sites and ruins.
Hummingbird Highway
Stretching from Belize's capital city of Belmopan to the coastal Garifuna town of Dangriga, the Hummingbird Highway features 48 miles of nearly uninterrupted, picture-postcard-perfect views of rolling citrus orchards and lush tropical vegetation against a backdrop of intricately layered hills in the Maya Mountains.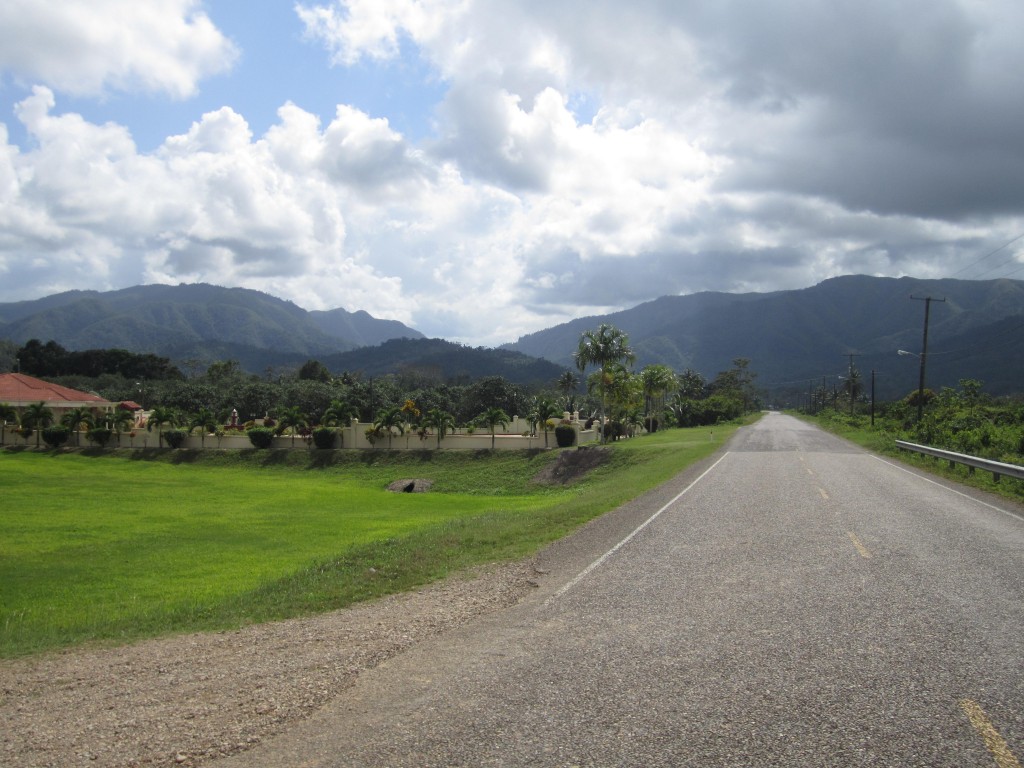 While you may never see a hummingbird, we were lucky to catch a glimpse of a Keel Billed Toucan, Belize's national bird, floating across the road.  Other memorable snapshots of life in the Belizean countryside included school kids at play, all manner of roadside shops and buildings, a man throwing oranges to a cow across the street, wandering chickens and other livestock.
Stann Creek District
The Stann Creek District runs from Dangriga in the north, through Hopkins, Sittee River, and Maya Centre to the popular destination of Placencia at the southernmost tip.  Along with miles of beautiful coastline, the District's natural hot spots and top attractions include the impressive tropical forest and jungle scapes of the Cockscomb Basin Wildlife Sanctuary and Jaguar Preserve and the Mayflower Bocawina National Park, just off the Southern Highway.
Dangriga and Stann Creek are also the main home to Belize's Garifuna population and their lively Afro-Caribbean culture.  Click here to learn more about Garifuna People and Culture in Belize and Central America.
Tropical Rain Forests and Jungles
Dense, lush jungles and rainforests cover about half of the Belize countryside, with many areas still waiting to be explored and researched.  Some eighty percent of Belize's rainforests benefit from the Belize government's environmental protection and conservation efforts.
Belize's thick jungles and rainforests provide abundant habitat and cover for great biodiversity and a fascinating variety of exotic flora and fauna.  Jaguars, pumas, ocelots, armadillos, tapirs and crocodiles are just a few of the species that make up the intriguing family of Belizean wildlife.  Bird watchers can try their hand at identifying as many of Belize's 500 species of flying subjects as they can spot, including multi-colored parrots, macaws, hummingbirds and keel-billed Toucans.  In addition to countless varieties of trees, hanging vines and other vegetation, Belize's diverse flora encompasses 4,000 species of tropical flowers, including 250 varieties of orchids.
Cockscomb Basin Wildlife Sanctuary and Jaguar Preserve
The Cockscomb Basin Wildlife Sanctuary, also commonly referred to as the Jaguar Preserve, is a vast tropical forest located in Belize's Stann Creek District, several miles west of the Southern Highway.  Thanks to the work of American zoologist Alan Rabinowitz, Cockscomb Basin became the world's first jaguar sanctuary in 1984.  As its more formal name implies, the Sanctuary also plays home to a large sample of Belize's many other species of beautiful animals, birds and plant life.
In fact, it's probably best not to pin your hopes for a trip to Cockscomb on spotting a jaguar.  If you're like my travel companion, that might actually be a relief considering the range of emotions that could go with seeing one of these beautiful hunters up close in the wild.  As of 2008, the jaguar population of the Cockscomb Basin Wildlife Sanctuary was estimated at about 40 to 50 felines.  With the Sanctuary covering a considerable 200 square miles, that puts the population density at about 1 jaguar for every 4 square miles of heavily vegetated jungle.  Add to that the jaguar's nocturnal tendencies and the fact that most visits will be limited to a network of excellent walking trails in the eastern section of the Sanctuary.  We tried to be discreet while hanging out at the jaguar crossing sign below for awhile but weren't lucky enough to catch a glimpse of a jaguar passing by.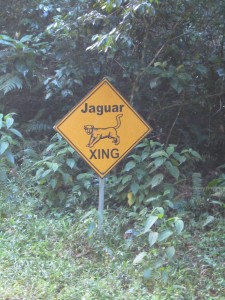 This little guy is more along the lines of what we had wishfully envisioned.  We weren't able to find the name of a photographer to give credit for this amazing picture.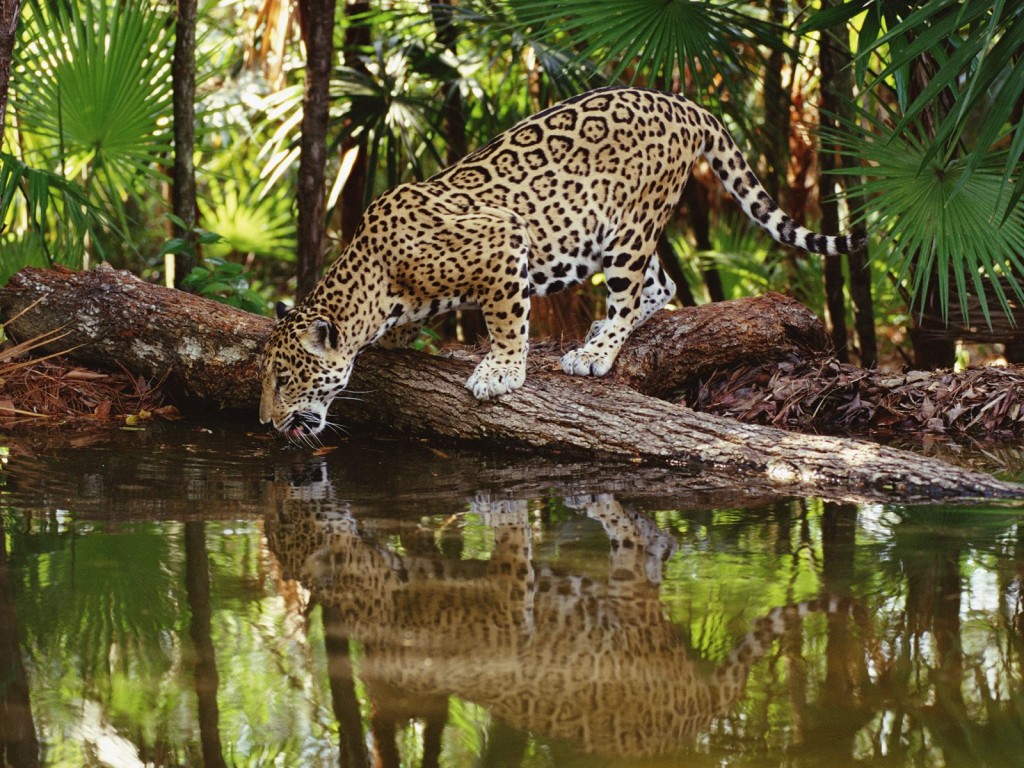 Despite its impressive spatial characteristics, the Cockscomb Basin Wildlife Sanctuary apparently isn't big enough on its own to support substantial reproduction and expansion of the jaguar population.  Nevertheless, the area forms an important, sizeable component of a much bigger biological corridor that helps sustain the jaguar population and represents a pioneering, large-scale effort to protect one of the rare gems of Belize's wild animal kingdom.
All of this isn't by any means intended to discourage visits to the Cockscomb Basin Wildlife Sanctuary.  Even if you don't see a jaguar, it's definitely still worth making the trip for the chance to see other less reclusive wildlife and hike through the exotic vegetation of the lush tropical forest.
A few tips for improving the chances of spotting wildlife include hiring a local guide in Maya Centre at the turn off to Cockscomb and accompanying a guide on a nocturnal tour.  Guides are reportedly much more adept at spotting wildlife that untrained visitors are likely to miss and can also provide a wealth of interesting information about the reserve and surrounding area.
Mayflower Bocawina National Park
Less well known than Cockscomb Basin Wildlife Sanctuary, the Mayflower Bocawina National Park, located just a few miles up the Southern Highway from Cockscomb between Dangriga and Hopkins, rewards visitors who take the road less traveled with beautiful hikes through similarly lush, dense jungle scapes.  Though the relatively compact Mayflower Bocawina National Park is considerably smaller in scale than Cockscomb, many travelers would probably be hard-pressed to tell the difference while standing on the park's trails.  The added bonus of cascading waterfalls that run alongside trails and cap off hikes contribute considerably to the scenery and motivation to reach trail's end along the way.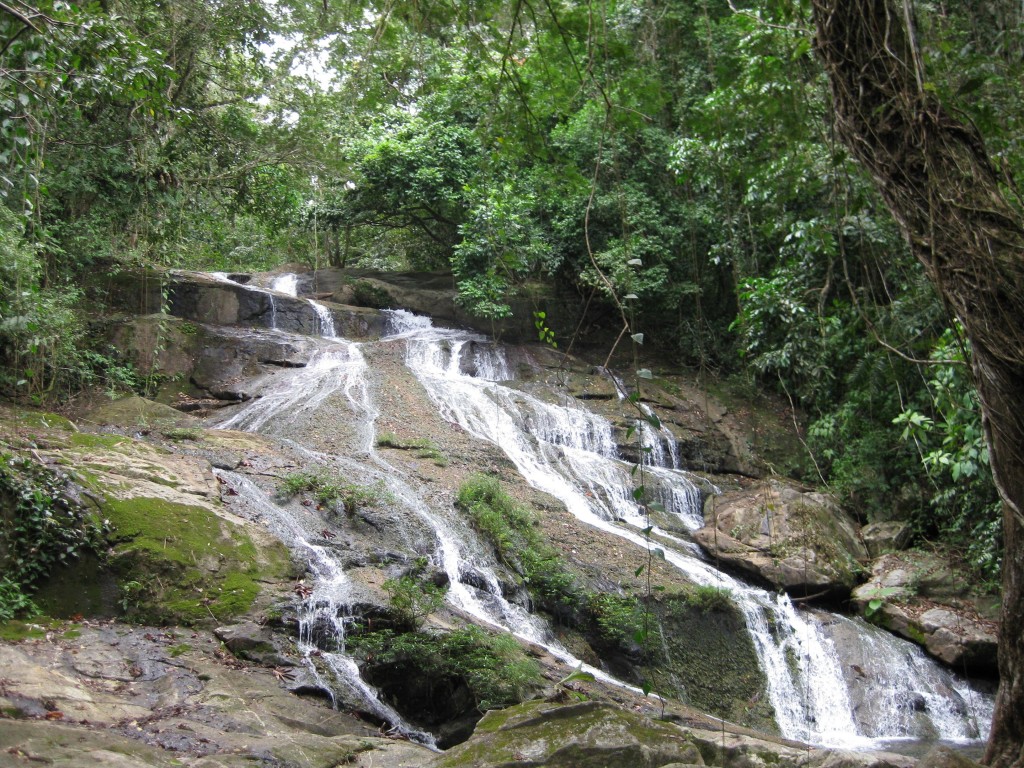 The massive, sculptural trunks and elaborate root systems of the park's large population of elder trees form both natural steps and staircases and intriguing, if distracting obstacles for hikers.  Mayflower Bocawina's lush jungle environment provides fertile breeding ground and an attractive backdrop for shapely, vibrant flowers and other vegetation.  (Click on the images to see larger versions.)
More adventurous travelers can try taking a dip in the natural pool at the top of the upper Bocawina Falls or take on the challenge of a more strenuous climb up to the 100-ft high Antelope Falls and their panoramic views of the Stann Creek valleys and Maya Mountains.
Environmental Conservation and Ecotourism
The proportion of human to other life forms in Belize is another testament to the importance of the natural environment. With a population of only about 333,000 people, Belize lays claim to the lowest population density in Central America and the third lowest in the Americas after Guyana and Suriname.
Official environmental protection areas cover about 40 percent of the territory of Belize. The natural environment is so intertwined with life and traveling in Belize that the country has been credited with effectively inventing the concept of ecotourism.
Therefore, it doesn't come as much of a surprise that a large, diverse group of local and international organizations, businesses and individuals devote considerable effort and resources to protecting Belize's natural beauty, wildlife and ecosystems.
Belize's government plays an active part in the country's environmental protection and conservation programs.  During an interesting diversion from one of our snorkeling trips, we were fortunate to meet an employee of Belize's Ministry of Agriculture, Fisheries and Cooperatives stationed on the Caye Caulker Forest and Marine Reserve.  He was working on a project that involved restoring the natural environment and ecosystem in the wake of considerable lingering damage from a long-gone hurricane.  He explained the encasement method used to regrow and protect young mangroves, which provide critical habitat for wildlife and provide a natural barrier against erosion, in lieu of the much more expensive, probably infeasible, alternative of constructing a man-made retaining wall around the island.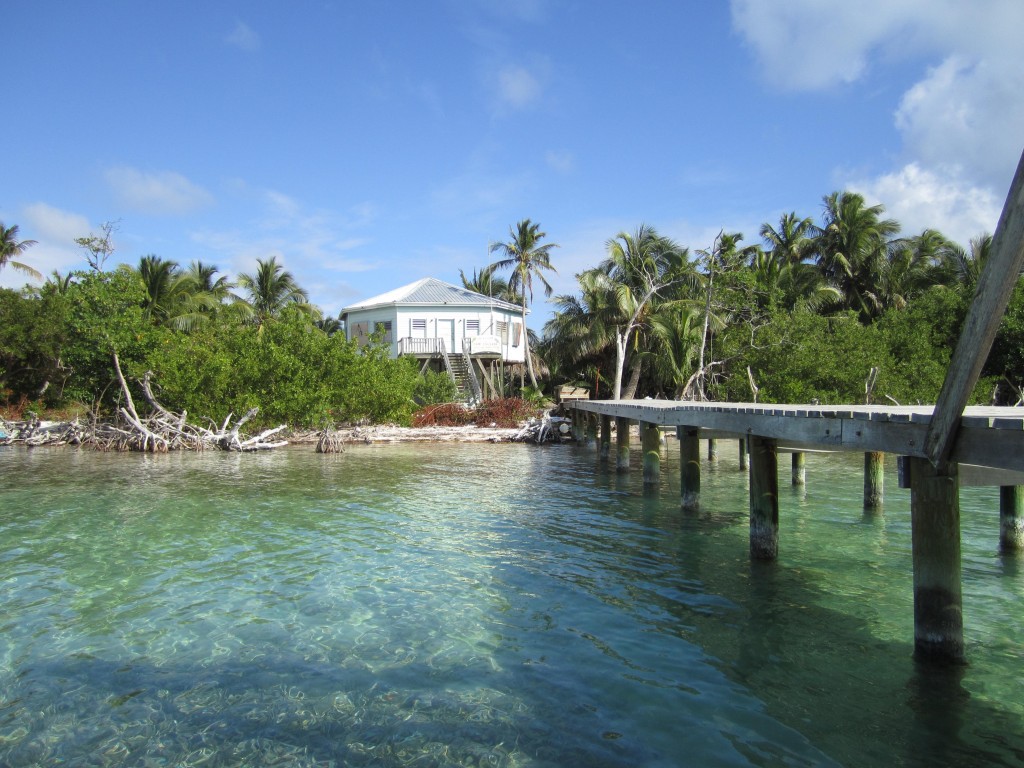 The Belize Audubon Society, one of Belize's most visible and prominent NGO's, manages eight protected areas in the country and campaigns on environmental issues.  International environmental organizations working in Belize include Conservational International (CI).  There are also plenty of opportunities for visitors to get in on the act by volunteering with local organizations in Belize, including assisting with conservation efforts at the Caye Caulker Forest and Marine Reserve.
These are just a few examples of the large number of environmentally minded people and good causes in Belize.  You can learn about others on the web or in some of the popular travel guides on Belize.  The latest Lonely Planet guide contains a "GreenDex" environmental index of accommodations, other organizations, individuals and companies that are pursuing and promoting environmental sustainability.
Weather, Locals, Lobster Season and Sun Block
Here are a few things to consider if you just can't help but make plans to visit Belize after reading this article.
When to Visit – The best time to travel for most people is probably from December to May or June, before or after the rainy season.
Lobster Season – If you want to get in on the very good eating that goes with lobster season, you'll need to lop off a good part of that period from February 15 to June 15, when the lobsters are avoiding the dinner table by reproducing.
Sun Block – If you go snorkeling, don't make the mistake we did and remember to maintain a healthy coat of sun block since your back will be facing straight up at the Caribbean sun for a good part of the day.
Locals – However you choose to spend your time in Belize, you can rest assured of getting on well and having a great time with the locals who were pretty much all extremely helpful and courteous during our stay.
[adrotate banner="5″]

Related articles and content:
Caye Caulker, Belize – Beautiful, Laid Back Caribbean Getaway
Mayan Civilization, Ruins and Culture in Central America
Garifuna People and Culture in Central America
Cambodia Biodiversity Find – Carnivorous Plant