Climate risk presents very real threats and opportunities to companies and communities around the world.  The expansion of global supply chains that has lowered costs and brought thousands of jobs to developing countries has also exposed the growing vulnerability of business and society to extreme weather events and natural disasters.  At the same time, forward-looking companies and entrepreneurs recognize these changes as an opportunity to retool and strengthen old business models, develop untapped markets and create new jobs.
Thailand Flooding
The Thailand flooding of 2011 is one prominent example of the costly impact of extreme weather events on business, workers and communities.  The worst floods to hit Thailand in 70 years shuttered factories and ground shipments of auto parts, hard drives and textiles to a halt for months.  The economic costs of the flooding in Thailand resulted in the highest insured losses for a single flood event at $12 billion according to the reinsurance company Swiss Re.
Climate Change Risks
The growing risks that companies and investors face from climate change led Oxfam America, Calvert Investments and Ceres to sponsor a 2013 report called "Physical Risks from Climate Change."  The useful resource aims to provide companies with a handy introduction to the climate risks that may threaten their supply chains, physical assets and support from key stakeholders, particularly communities and investors.
The guide's introduction contains a world map of "significant weather-related loss events in 2011" that is reproduced below.  Extreme weather events led to 90 percent of all disasters and 8 of the 10 most costly, resulting in overall losses of more than $148 billion.  (Click on the image below to view the full-size map in a separate browser tab or window.)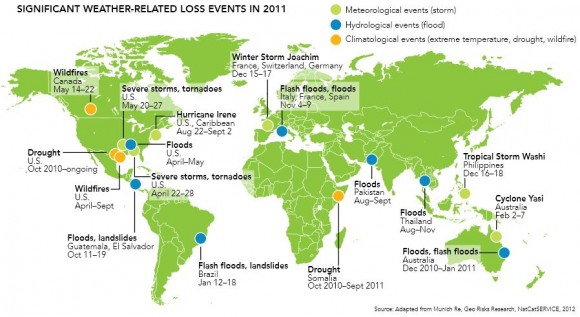 [NOTE: This article is a work in progress.  Please check back for the finished version.]
Related articles and content:
Global Sherpa topic, country and city pages: Sustainability, Development, Globalization, World Rankings, BRIC Countries, China, India, Brazil, Japan, South Korea, World Cities, Tokyo, New York City
Resilient Cities: Climate Adaptation & Urban Development
The Great Global Water Squeeze