Cities are the world's future. Urbanization continues to be a defining trend of international development, particularly in Asia and Africa.  The way that cities develop will have profound, long-term, likely irreversible implications for the lives of most of the world's people and the sustainability of the planet's limited supply of natural resources.
As recently as 1800, a mere 3 percent of the global population inhabited urban areas.  By 2011, more than half the world's population lived in cities.  By 2025, the number of people living in metropolitan areas is forecasted to reach 70 percent of the world's population.
The dramatic rise of cities and urban living around the world relates directly to the rapid pace of economic development and improvements in living standards.  People flock to cities to create and take advantage of unique economic, social and cultural opportunities.
The density of cities and human industriousness combine to produce efficient, effective exchanges of knowledge and information that spark new business ideas and break-through innovation.  Cities' large pools of talented, skilled workers are key drivers of global economic growth, scientific discovery and cultural creativity.
World Rankings and Statistics
World's Most Populous Metropolitan Areas: 1) Tokyo, Japan (32.5 million people); 2) Seoul, South Korea (20.55 million); 3) Mexico City, Mexico (20.45 million); 4) New York City, U.S. (19.75 million); 5) Mumbai, India (19.2 million); 6) Jakarta, Indonesia (18.9 million); 7) Sao Paulo, Brazil (18.85 million); 8 ) Delhi, India (18.6 million); 9) Shanghai, China (16.65 million); 10) Manila, Philippines (16.3 million) (Note: Rankings and statistics vary somewhat across different sources depending on each source's definition of "metropolitan area," "urban area," and similar terms.)
Most Global Cities ranking (A.T. Kearney, 2010): 1) New York City (6.22); 2) London (5.86); 3) Tokyo (5.42); 4) Paris (5.35); 5) Hong Kong (4.14); 6) Chicago (3.94); 7) Los Angeles (3.9); 8 ) Singapore (3.45); 9) Sydney (3.44); 10) Seoul (3.4)
Economist's Most Liveable Cities ranking (2011): 1) Vancouver; 2) Melbourne; 3) Vienna; 4) Toronto; 5) Calgary; 6) Helsinki; 7) Sydney; 8 (tie)  Perth, Adelaide; 10) Auckland
Mercer's Quality of Living ranking (2010): 1) Vienna; 2) Zurich; 3) Geneva; 4 (tie) Vancouver, Auckland; 6) Dusseldorf; 7 (tie) Frankfurt, Munich; 9) Bern; 10) Sydney
World's Oldest, Continually Inhabited Cities: Jericho, Palestinian Territories; Damascus, Syria; Byblos, Lebanon
The chart below shows the latest top 10 city rankings from the Economist's Most Liveable Cities, Mercer's Quality of Living, and A.T. Kearney's Most Global Cities in table form.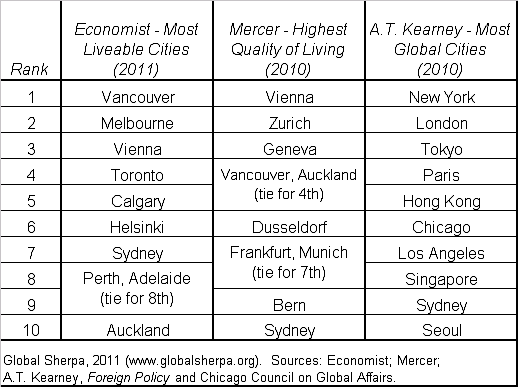 Economic Development and Urbanization
The link between economic development and urbanization is no accident.  Economic activity in the world's cities accounts for the vast majority of global economic output.  From 1993 to 2007, the world's largest 150 metropolitan areas, comprising just under 12 percent of the global population, contributed 46 percent of world GDP, according to the 2011 Global MetroMonitor study by the Brookings Institution and the London School of Economics and Political Science.
Cities contribute to economic growth by attracting and retaining well-educated, highly skilled workers.  "Human capital, far more than physical infrastructure, explains why cities succeed," according to Harvard economist Edward Glaeser in his fascinating book Triumph of the City.
Labor pools are one key example of how cities foster economic growth by creating attractive markets for goods and services as well as labor and capital.  The size, density and diversity of cities create the conditions for small businesses to develop and flourish.  A relative abundance of job opportunities affords workers and entrepreneurs the freedom to take the inevitable risks involved in capitalizing on economic opportunities.
The close relationship between cities and economic development extends to improvements in living standards and well-being in many dimensions.  As incomes rise, people are not only better able to provide for their basic needs but also can devote a greater share of their resources to enjoying discretionary social and cultural experiences.  According to Prof. Glaeser's research, "There is a near perfect correlation between urbanization and prosperity across nations."  In China and other developing countries, cities also attract large numbers of migrant workers whose earnings help support families and improve living standards in distant hometowns.
Mega-Cities
The rapid advance of the BRIC nations and other developing countries is synonymous with urbanization and the emergence of so-called mega-cities.  The on-going economic development of China and India in particular is expected to lead to record increases in the number of large world cities and the global population of city dwellers.
By 2030, China and India will have more than 221 cities and 68 cities, respectively, with populations of more than one million people each, according to research by the McKinsey Global Institute.  By 2025, more than 70 percent of Chinese and 40 percent of Indians will live in cities of greater than one million people.
Cities and the Environment
Contrary to some expectations, cities are very well-suited to living and working in ways that are better for the planet.  Mass transit, bicycles and walking are the primary modes of transportation for many city workers and inhabitants.  City dwellers tend to live in modestly sized housing that is often located relatively close to work, school and other regular destinations.
In the U.S. for example, the carbon footprint of a family that lives in a city is likely to be much smaller than one of a family that opts for more spacious accommodations in adjacent suburbs.  Accordingly, the open question of whether members of the rapidly emerging, very large middle classes in the BRIC countries (China, India, Brazil and Russia) will gravitate toward cities or suburbs has powerful, long-term consequences for global environmental sustainability.
Science and Technology
Cities also have a disproportionate impact on global science research and innovation.  Cities are often home to influential educational institutions and research facilities.  As in other fields, top researchers are drawn to cities for the opportunities to associate and collaborate with other leading scientists and institutions.
Beijing and Sao Paulo each contribute more than 20 percent of the annual production of peer-reviewed science publications in China and Brazil, respectively.  Moscow accounts for more than 50 percent of Russian science articles.
Globalization and Cities
Globalization both contributes to and feeds off of the rise of cities around the world.  Multinational corporations set up shop in global cities to serve attractive emerging markets and take advantage of the expertise of local labor forces.  Scientists seek out counterparts in international cities to further their quest for scientific discovery and innovation.  Performers travel to foreign cities to share their art with people from different cultures and backgrounds.  In each case, these interactions facilitate productive, inspiring exchanges of knowledge, skills and cross-cultural awareness and enjoyment.
Follow @GlobalSherpa

Related articles and content:
City and country profiles and topic pages: New York City, Tokyo, China, India, Brazil, Japan, South Korea, BRIC Countries, Development, Sustainability, Globalization, World Rankings
How Green are the World's Cities?
Resilient Cities: Climate Adaptation & Urban Development
World Cities: Best Quality of Living and Liveability
Cities: "Man's Greatest Invention" (How cities make us "richer, smarter, greener, healthier and happier")
Amsterdam: Bike Riding Capital of the World
China Meets Chicago – Most China-Friendly U.S. City
Visit the Global Sherpa home page.