The UNDP Human Development Index (HDI) (2010) is the center piece of the UNDP's annual Human Development Report (HDR).  The HDI measures and ranks countries' levels of development based on three fundamental indicators: income, health and education.
The 2010 HDR introduced three new multidimensional measures of inequality and poverty: 1) Inequality-adjusted HDI (IHDI); 2) Gender Inequality Index (GII); and 3) Multidimensional Poverty Index.
At the top of the 2010 HDI table, Norway heads the group of 42 "Very High Human Development Countries."  The U.S. ranks #4 behind Australia and New Zealand. Seven of the top 26 countries achieved HDI gains of more than 20 percent and all but five had HDI's that grew by 15 percent or more.  (Click on the table below to view the full-size version in a separate browser tab or window).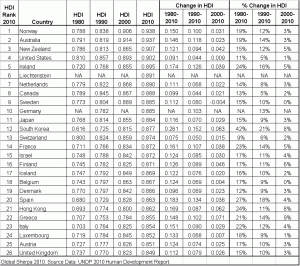 Related articles and content:
Analyzing Global Progress: Interpreting the 2010 UNDP Human Development Report and Index
Return to the World Rankings page.