China hosted the third annual BRICs Summit on April 14, 2011.  With South Africa joining Brazil, India, Russia and China for the first time, the event highlights China's and other BRIC countries' investments and growing influence on the African continent.  Other noteworthy developments included the promotion of trade, investment and infrastructure projects and support for Russia's long-standing WTO bid.
China, South Africa and the BRICs
China invited South Africa to join the original group of four BRIC countries in December, 2010.  In one key respect, size, South Africa does not measure up to its BRIC counterparts.  With 50 million people, South Africa's population is a fraction of other BRIC countries' populations, which range from Russia's 143 million people to China's 1.34 billion.  The man credited with the BRICs moniker, Jim O'Neil of Goldman Sachs Asset Management, has long contended that South Africa's population is too small for BRIC status.
A country's population limits the potential size of its economy and the country's capacity to function as an engine of global economic growth and development.  At roughly $285 billion in 2009, South Africa's economy was less than one quarter that of Russia's, the smallest of the original BRIC country economies at about $1,232 billion.  The chart below presents selected economic development statistics for the BRIC countries, Africa and other potential BRIC country candidates.  (Click on the image to view the full-size chart in a separate browser tab or window.)

On its own, Indonesia looks to fit the BRIC mold better than South Africa.  With greater than 230 million people, Indonesia's population is more than 4 times larger than South Africa's population and more than 60 percent bigger than Russia's.  At $540.3 billion in 2009, Indonesia's GDP was nearly double that of South Africa, though it was still less than half the size of Russia's economy.
South Africa: Gateway to the Continent
South Africa's freshly minted BRIC credentials make more sense when it comes to the country's relationship with Africa.  Sub-Saharan Africa's collective population of more than 840 million people helps to allay concerns about size.
As the most developed country in sub-Saharan Africa, South Africa serves as a vital gateway to the Continent as well as a valuable conduit between the developing (South) and developed (North) country worlds.  In an interview with China's Xinhua news agency, South African Ambassador Bheki Langa suggested, "South Africa is uniquely placed to bring the African perspective to the BRICs forum," considering South Africa is the largest investor of developing countries in Africa and South Africa's "foreign policy priority is the African continent."
At the 2011 BRICs Summit, the BRIC countries declared their intention to "explore cooperation in the sphere of science, technology and innovation, including the peaceful use of space."  A recent study on global science research by the U.K.'s Royal Society identified South Africa as "the linchpin of the continent's collaborative efforts" in science R&D.  In addition, the IBSA Initiative between South Africa, Brazil and India promotes South-South cooperation in several arenas, including science and research collaboration in fields such as nanotechnology, oceanography and Antarctic research.
China's Investment in Africa
For some time, China has viewed Africa as a key component of its plans for future economic growth and development.  China has invested aggressively across the African Continent to secure access to natural resources needed to fuel and sustain rapid, annual economic growth of close to 10 percent.  Chinese companies see Africa's promising economic development as an opportunity to develop their businesses by helping to build roads, power plants, telecom systems, schools and other foundational infrastructure.  By 2005, China's foreign direct investments (FDI) in Africa totaled some $1.6 billion according to a BBC News report.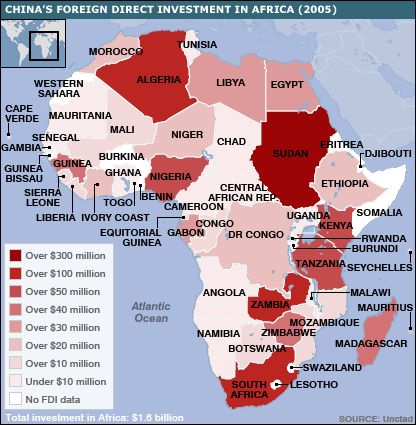 During the period 2005-10, China's investments in Africa grew dramatically by an additional $43.6 billion in Sub-Saharan Africa and another $52.4 billion in the Middle East and North Africa (including Algeria, Egypt, Libya, Morocco, Sudan and Tunisia).  Together, the two regions accounted for 30.3 percent of China's total outward investment, versus investments of 17.1 percent in other Asian countries and just 8.9 percent in the U.S.  In 2010, trade between China and Africa exceeded $120 billion.  The chart below from the Economist presents data on China's outward investment and trade with Africa.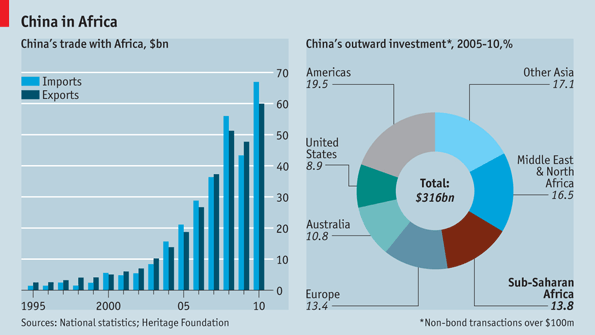 Article 25 of the Sanya Declaration from the BRICs Summit 2011 affirms BRIC countries' support of "infrastructure development in Africa and its industrialization within [the] framework of the New Partnership for Africa's Development (NEPAD)."  The African Union (AU) established NEPAD in 2001 as a strategic framework for Pan-African socio-economic development.  NEPAD manages programs and projects designed to enhance Africa's growth, development and participation in the global economy.  Many of China's and India's activities in Africa have been channeled through the Forum on China-Africa Cooperation (FOCAC), set up in 2000, and the India-Africa Forum.
China and Brazil
At the BRICs Summit 2011, Brazil and China signed a joint communiqué in which the two countries agreed to continue to promote cooperation in bilateral trade and investment.  Industrial sectors singled out for cooperation and mutual investment include: aviation, automotive, energy, high technology, logistics and mining.  China indicated it would encourage Chinese companies to increase their imports of high value-added products from Brazil.  In return, Brazil invited Chinese companies to bid for high-speed rail projects in Brazil.  Both countries anticipated establishing a partnership for infrastructure construction ahead of Brazil's hosting of the 2014 World Cup and 2016 Olympic Games.
Russia: Fitting In?
BRIC trade ministers from China, India, Brazil and South Africa expressed strong support for admitting Russia to the World Trade Organization (WTO) this year.  To date, political issues and disagreements over agricultural policies have hindered Russia's 18-year bid to join the WTO.
Contrary to its prior stance, Russia supported the BRIC country position on pushing forward with global climate change negotiations and sustainable development.  Until recently, Russia has tended to break ranks with the other BRIC countries on environmental and sustainability issues in order to protect its economically advantageous role as a major exporter of fossil fuels.
BRICs, Global Economic Growth and Development
Expanded cooperation among the BRIC countries has many important motivations and implications for the international political economy.  On one hand, cooperation contains an element of us-versus-them in which BRIC countries seek to enhance their leverage in international organizations and negotiations.  On the other hand, cooperation facilitates global economic growth and development by expanding markets, promoting international trade and investment and facilitating the efficient, effective allocation of limited resources.  Investments in infrastructure, clean energy and natural resources help ensure that the BRIC countries will continue to function as powerful engines of global economic growth.  Cooperation helps provide vital infrastructure that Africa and BRIC country partners require to sustain economic development and rising living standards.
Related articles and content:
Global Sherpa country profiles: China, India, Brazil
BRIC Countries – Latest News, Facts and Original Articles
China's Development Plans Lead World, BRICs
BRIC Countries Discover Foreign Aid
Slimtrader Helps Develop Emerging Economies in Africa
BRICs, Emerging Market Consumer Insights
China and India – Planning vs. Jugaad
China Facts, Latest Live News and Original Articles
Visit the Global Sherpa home page.